What to See and Do at IBS 2013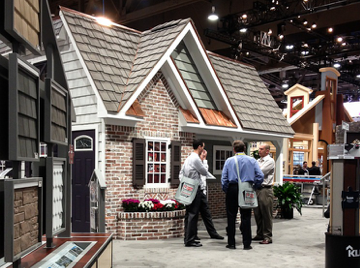 Are you headed to IBS 2013 in Las Vegas next week?
The International Builders Show is a tremendous opportunity to learn the tools, strategies, and real world case studies of how home builders around the country are attracting, engaging, and converting buyers today.
Here's our list of can't-miss sessions at the Builder Show this Year:
Tuesday, January 22
8:30AM – 4:00PM
Technology Trends, Tools & Strategies:
Draw Customers In & Enhance Their Home Buying Experience
In this full day master session, find out how technology is influencing every stage of the home buying process and how to use the latest tools and strategies to attract, nurture, and convert home buyers.
Wednesday, January 23
10:30AM – 12:00PM
[Keynote] New Map to Homebuilding:
How New Home Builders and Remaking Themselves and Retaking the Market
Discover how private builders are responding to changes in the economy and finding new ways to profitability.
10:30AM – 12:00PM
Accelerate Your New Home Sales:
Attributes of the Top 1% of Sales Professionals
Discover the characteristics of the top new home sales performers and the specific actions that lead to sales success in any market.
2:30PM – 4:00PM
Beyond Facebook: Pinterest, Google+ and More
Join our own Paula Huggett as she co-leads a panel discussion about the latest social media platforms including Pinterest, Google+, Houzz, and more. See how home builders nationwide are finding creative new ways to engage buyers.
Thursday, January 24
8:30AM – 10:00AM
Online Sales Counselors: Change the Game,
Set More Appointments and Create Exceptional Customer Satisfaction
The Bokka Group's Chief Effectiveness Officer joins Maurie Jones and Julie Engelman of Wayne Homes, Leisa Weintraub of Neal Communities, and Robert August of North Star Synergies to discuss effective strategies to hire, train, compensate and motivate an Online Sales Counselor team.
10:30AM – 12:00PM
[Keynote] Disruptive Tech:
What's New, What's Coming, And How it Will Change Everything
Join New York Times technology reviewer David Pogue for an exciting look at what's ahead in technology, and how what is means for attracting, engaging, and converting new home buyers.
2:30PM – 4:00PM
Email 2.0: Taking Your Campaigns to the Next Level
The rise of mobile technology has made email marketing more important that ever for home builders to nurture prospects, build trust, and engage new buyers. Join our own Jimmy Diffee as he co-leads this can't miss session about how top builders are using email now to increase sales.
We'll see you at IBS 2013!