We're a customer experience agency for home builders.
Our services fall under the following 3 categories:
Consulting services – for builders wanting to transform to a customer-first mentality.
Technology solutions – for builders that need a system for improving customer & employee satisfaction.
Marketing solutions – because this is where most builders spend time & money collecting customer data and using it to improve sales. For more info about these services and specific examples, check out Our Services pages.
---
Our story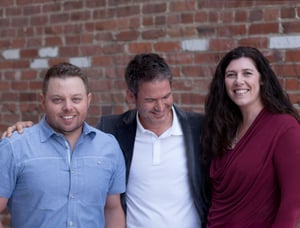 Jimmy Diffee & Dallas Johnson founded the company in 2001 after launching a successful interactive division at an ad agency where they met. Dallas was the technical mind, and Jimmy was the creative force. Paula Huggett joined the partnership, filling the need for client services and business development.
In 2005 we began working with home builders and developers, and found our calling. Improving the experience for people making the largest purchase of their lives was the most fulfilling thing we'd done since going into business.
It became our mission (literally). We decided to phase out all non-builder clients and immerse ourselves in the industry. To mark the transition, we rebranded as the Bokka Group.
"Where does the name come from?"
As part of the rebranding, we needed a name that carried meaning but was completely unique. We chose Bokka, which is Italian for mouth (boca) since it's the symbol for communication, which is the cornerstone for great experiences. The spelling was influenced by a lamp by industrial designer Karim Rashid, whom we'd recently worked with.
How we've evolved
In the 15 years since our first builder client, we've branched outside of home builder marketing and advertising to include technology and lead-conversion research with home buyers and builders. This R&D led to national studies and partnerships with some of the biggest names in the industry, which fueled our ever-growing consulting business.
We've always stayed true to our mission to improve the customer experience for home buyers. As disruption and Millennials threaten to change how home builders do business, the focus on the experience is now more important than ever, and our service offering has grown as a result.
Who we serve
Our clients are top 150 builders and developers with a passion for putting the customer first. We're also forging partnerships with innovators in the industry that use technology to disrupt the status quo.
A typical relationship with Bokka
We forge long-term, meaningful relationships with our clients. We do take on smaller projects because we know that's what it takes to build trust. But the transformation to customer-obsession takes time, so we prefer to work on a retainer basis, scaling up or down as needed.
---
Our Values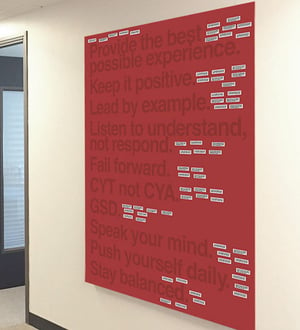 We believe that company values are more than just a poster on the wall (or a page on our website). They're representative of the culture and the people that work here. We hire, fire, and promote based on them. We also make lifelong friends by practicing them.
Provide the best possible experience.
How would you like to experience it? Look for opportunities to make it better. Challenge the status quo.
---
Keep it positive.
Outcomes are always better when we have a positive attitude.
---
Lead by example.
Be humble. We are servant leaders to our clients and each other.
---
Listen to understand, not respond.
Assume positive intent. Everyone wants to do good.
---
Fail forward.
Don't be afraid to make mistakes. Own them, share them and help everyone grow through them.
---
CYT (Cover Your Team), not CYA.
Stand behind your teammates and clients. Support each other. Don't point fingers.
---
GSD (Get Stuff Done).
Don't just talk about it. Do it. If there's no process for it...make one.
---
Speak your mind.
Say what you feel (while being sensitive to how others feel). Add to the suggestion box.
---
Push yourself daily.
Learn. Explore. Innovate. Never stop improving.
---
Stay balanced.
Take walks. Get ice cream. Don't burn out.
---
So that's how we roll. We've been in business long enough to know how important it is to have a place everyone loves coming into each day.
But enough about us...
We want to hear your story. Even if we're not a perfect fit, we're still great listeners. Tell us what drives you. What keeps you up at night? Or just tell us "hi" - we'd love to hear from you.