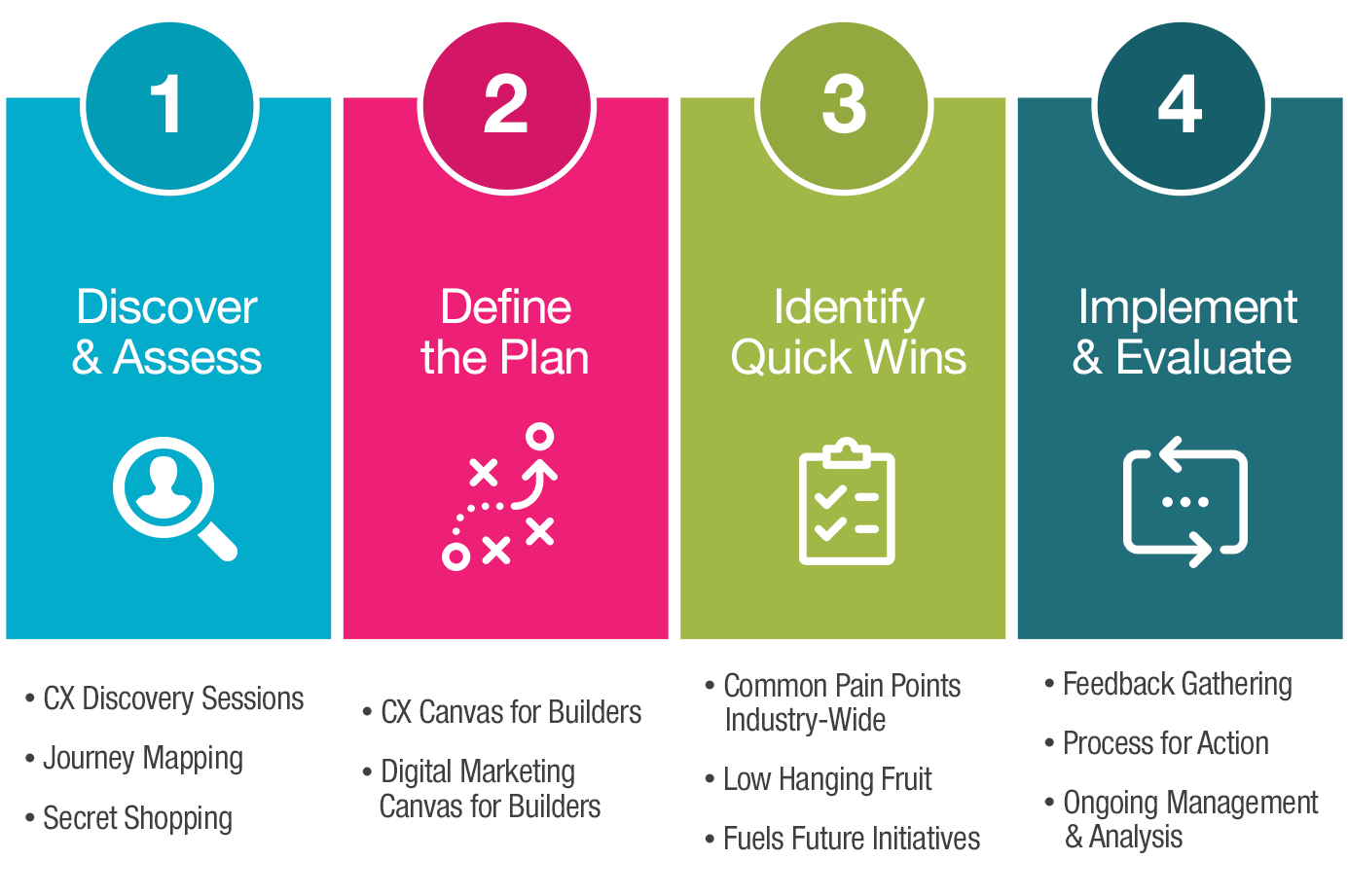 Without a structured plan, you are doing nothing more than chasing fads (or worse, your competitors). You would never build or sell a home without proper market evaluation and planning. In the same way, meaningful improvements to the home buying experience require a customer experience strategy for achieving results.
Our 4-Step Process
1) Discover and Assess
Our work is founded on the knowledge and understanding we capture early in the process through discovery. We begin peeling back the layers of your customer experience from the very beginning. Whether you're looking to fully detail your customer journey through Journey Mapping, or want an assessment of how you're doing in a specific area (i.e. marketing/sales), we will work with you and your team to assess the experience you're currently delivering, and identify ways to improve.
2) Define the Plan
With the context and knowledge of your goals and desired outcomes, we begin applying tools like our Customer Experience Canvas and Digital Marketing Canvas to bring your plan to life in a visual and tangible format.
3) Identify Quick Wins
We know how hard it can be to take action on large initiatives. Our plan is to identify "low hanging fruit" to help you start small and create momentum. For decades, we've helped builders large and small innovate the experience, so we have a solid understanding of what works and doesn't in this industry. We apply this knowledge to help you make valuable changes right away. Whether it's staffing an online sales program or responding to warranty requests, we'll be your trusted guide.
4) Implement and Evaluate
By focusing on what matters most to you, we help close the gap between what the experience should be and what it really is. Whether as a trusted advisor to executives or as a hands-on coach for front-line workers, we partner with you to put processes into action and develop systems for getting customer feedback on a regular basis. This feedback loop is what continually informs our management and analysis of what's working and what's not.