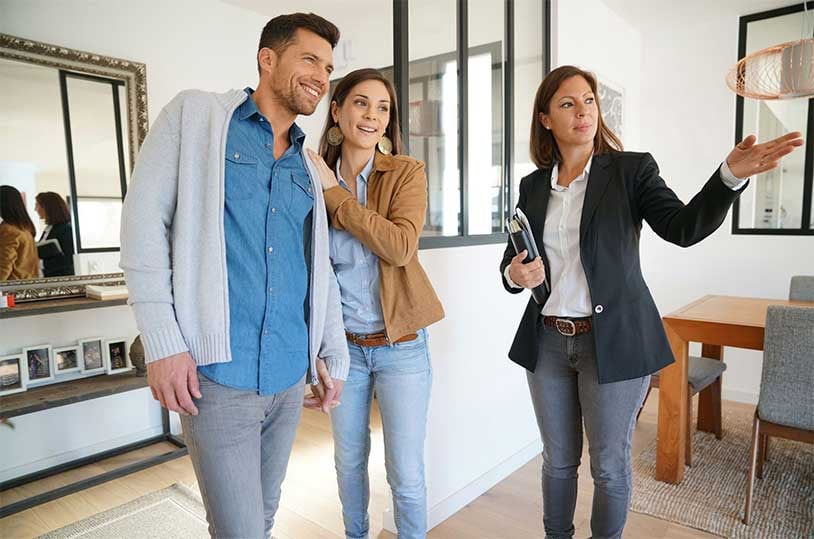 Does it ever feel like there are too many home builder marketing tactics to keep up with? And which of them work best for your budget?
I recently was talking with a marketing exec for a big builder and he told me, point blank, "I just paid $25k for a new marketing initiative that I don't even have time to launch. I'm just too busy with these new models we're opening."
And this isn't unique to him. I know plenty of builders that spend thousands on marketing tools and technologies and have no idea whether they have any effect on their lead generation or sales.
In this industry it seems like we chase the latest marketing tips and fads because we're afraid another builder might beat us to it. This is why we're so far behind other industries when it comes to marketing technology solutions.
Boosting Leads and Sales: a Guide for Busy Builders
In this guide, I'm going to outline what works best for home builders to get the most ROI from their home builder marketing strategies, while exceeding average builder conversion rates.
Whether you're a custom home builder delivering 4 homes a year or a production builder delivering 400, you'll be able to use these strategies to capture more leads and convert them to home sales. It's not intended to be a comprehensive list. Rather, it's what research has shown to be most influential in terms of generating traffic, leads, appointments, and sales.
Home builder marketing strategies, by category: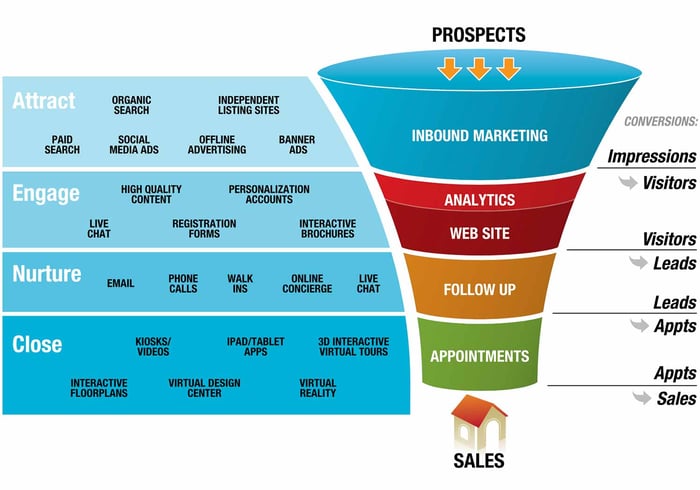 These categories are based on a typical home builder's sales funnel. Just choose from the marketing stages below and jump to the relevant section to see the tools and strategies:
→ Attract: Find prospects and get them to your web site
→ Engage: Capture their interest and convert them to leads
→ Nurture: Build enough trust to set an appointment onsite
→ Close: Match them with the perfect home at the right price


---

Attract: Find prospects and get them to your web site
The Attract phase is often where most home builders' marketing budgets are spent - especially as it pertains to online advertising (print, outdoor, TV, etc.). The goal of this stage of the funnel should be to convert brand impressions into actual web site visitors.
These are the most influential home builder marketing tools for generating web traffic:
INDEPENDENT LISTING WEB SITES: Web sites like Move.com, Zillow, Trulia, etc. aggregate new home listings for display online, and are often the first place prospects look for homes, communities, and builders. Some are paid subscription sites that charge builders to list homes. Visitors can view pricing, model information, elevations, floor plans, community information, and more all in one spot. Listing web sites are portals through which visitors are introduced to builders and their homes.
ORGANIC SEARCH ENGINE RESULTS (from Search Engine Optimization): Organic search results display web sites served by search engines such as Google and Bing based on the relevancy of their content to the search criteria entered. (NOTE: many listing web sites are well-indexed for SEO and show up at the top of the results pages).
PAID SEARCH ENGINE RESULTS: This includes advertising based on a pay-per-click (PPC) model: you pay each time someone clicks on your search result. This is a quick way for builders to pay to have their web site show up at the top of search results.
SOCIAL MEDIA ADS: Advertising on Facebook, Twitter, LinkedIn and other social media networks is gaining immense popularity in the real estate industry. These platforms generally offer low-cost, highly-targeted placements that can be very effective at traffic and lead generation.
BANNER ADVERTISING: Also called "display ads," banners entice prospective home buyers to seek more information. As one of the starting points in the Attraction Phase, these ads measure performance in terms of impressions and click-throughs. They can also "retarget" users that have previously engaged with the builder's web site or digital marketing.
---

Engage: Capture their interest and convert them to leads with your 24/7 Digital Model Center
When positioned as the hub of a builder's funnel, the home builder web site becomes the most valuable tool for engaging prospects and converting them to leads. This is where all prospects can view your homes and options 24/7, without even having to leave the house. This positioning is critical in terms in terms of tracking the sources of leads and optimizing the conversion rate.
Top digital marketing tools for online visualization of new homes:
PHOTO GALLERIES: Builder photography should be of the highest quality and include multiple perspectives that invite buyers to learn more. They can live directly on your web site and be updated through your Content Management System (CMS). Or you can use other services like Flickr or Google Photos to feed into your web site.
INTERACTIVE FLOOR PLANS allow prospects to visualize/customize plans they are considering. With different options, plan configurations, elevations and photos, users can save their plan to bring into a sales center. This adds value to the experience for both buyer and builder.
ROOM DESIGNERS: Current technology allows home shoppers to customize features of the home such as kitchen/room configurations and see high-quality renderings of their changes before committing to purchase.
3D INTERACTIVE TOURS: These are web site tours controlled by the user. The user has the ability to navigate from room to room and look around 360 degrees, as if they were inside the home. Matterport is the most common one.
VIDEOS: As online video has become the norm, users of all ages expect to see video on a builder's web site (or YouTube channel). Videos are a good way to keep visitors engaged with web site content, instead of expecting them to read large amounts of copy.
VIRTUAL REALITY TOURS: With technology such as Google Cardboard, virtual reality is now available to anyone with a smartphone. Builders can create virtual reality versions of their homes and models for prospects to tour without leaving their own homes.
---

Nurture: Build enough trust to set an appointment onsite
The highest level of conversion online is a web site visitor that contacts a builder to schedule an on-site tour or appointment. Buyers who schedule an on-site visit have typically completed the process of narrowing down home builders, neighborhoods, plan types and features. We recommend an Online Sales Counselor (OSC) to put someone in place to facilitate these.
How prospects prefer to set appointments:
EMAIL LINK: An email link from your website is one of the simplest ways for prospects to schedule an appointment with a home builder's sales agent. If you provide an email link (and you should), it's critical that someone is available at all times to respond. Your chances of losing the appointment increase within minutes of not responding. Especially if another builder beats you to it.
TELEPHONE: Often, users prefer to simply pick up the phone and call to set an appointment. Builders that don't show a phone number prominently throughout the web site are missing major opportunities. This is especially important for mobile users.
MAP/DIRECTIONS PAGE: When scheduling a sales visit, many buyers expect detailed maps and directions on builder web sites. Hours of operation and other essential location information should be provided to the buyer on this page.
WEB SITE FORM: Customized web forms give buyers the ability to request an appointment with a sales office directly from the builder's web site. More advanced tools link to the sales agent's calendar for real-time appointment setting.
LIVE CHAT: Live chat is often overlooked as an opportunity to engage with prospects, but it can be a powerful tool to both generate and qualify leads early in the buying process. When managed well, Live Chat can be a very powerful tool for interacting with prospects online and setting home tours in real time.
---

Close: Match them with the perfect home at the right price
Clearly, technology plays an important role not only in attracting and engaging buyers but in closing the sale as well. On-site sales center digital tools and displays have become as important to the sales presentation as well-merchandised model homes and professional, knowledgeable sales agents. In the last several years, technology in Sales Centers has advanced from static floor plan and builder story displays to videos, interactive floor plans and virtual reality showrooms.
Top tools for converting appointments to sales (on-site):
COMPUTER OR TABLET: One of the simplest and most common devices used in sales presentations, a laptop or tablet (with internet access) can easily showcase plans, photos, options, etc. directly from your web site. For this to work best, sales agents must be completely familiar with all interactive visualization tools on your site.
SALES CENTER APP: The prevalence of tablets has brought with it a variety of apps designed for home builder sales centers. These can be sales agent- or self-guided, allowing the buyer to explore home and community features while an agent is busy with another prospect.
TV OR TOUCH-SCREEN SYSTEM: This kiosk approach can be a focal point of the sales center experience, allowing the user or sales agent to explore interactive content provided by the builder. With so many smart TVs available now, it's more cost-effective than ever. Again, make sure the sales agents are well-trained on the tools.
Top content for converting appointments to sales (on-site):
PHOTO GALLERIES are the most affordable, yet effective types of sales content with a high degree of influence over home buying decisions. High-quality galleries connect buyers emotionally with homes and communities, and are one of the easiest types of content to produce.
INTERACTIVE FLOOR PLANS give users the ability to interact with a plan, selecting options, configurations, lighting, furniture, hotspots and more.
VIRTUAL DESIGN CENTER appeal has improved significantly with technology recently. Buyers can use these room designers to select finishes such as cabinetry, surfaces, paint color, etc. and see them rendered in photorealistic quality on nearly any device.
3D INTERACTIVE TOURS like Matterport allow users to virtually walk through a home, navigating seamlessly from room to room, turning to see every detail. Many are web-based, and can be viewed from any device with internet access.
SALES VIDEOS OF HOMES AND AMENITIES: On-site videos have been used for years to showcase homes and community features within a sales center or model. They are still very influential to home buyers.
COMMUNITY FLY-THROUGHS help buyers visualize homes and communities which have yet to be built. They are often used to show a macro view of the community's location, a critical component of an effective sales presentation.
VIRTUAL REALITY TOURS, which require special goggles, are one of the fastest growing technologies used in a sales center. As the realism improves and goggles become more comfortable, users feel like they are actually walking a model home simply by looking around.
---
Takeaway: Invest in home builder marketing strategies that work
At each stage of the new home purchase, modern buyers have the information they need at their fingertips. They research builders, neighborhoods and amenities online. They tour model homes, customize floor plans and ask questions in real time by live chat – all without ever leaving their home or office.
The ability for buyers to easily access this kind of information often makes them feel empowered and in control of their research and decision making process.
As buyers move through each stage of the sales funnel and transition to an on-site visit, it is just as important for them to feel in control and able to access the information they need. Whether clicking, swiping, or scrolling, buyers rely on interactive tools to engage with a product, neighborhood and community.
Get more from your home builder marketing budget
By using this guide to make marketing investment decisions, you can be confident you're investing in the most effective technologies. And by adopting these homebuilder marketing and sales strategies, you'll be able to integrate personal technology with personal consultative selling. This will lead to better return on your investment as a builder.
How to apply these strategies to your organization
At Bokka, we wrote the book on home builder lead conversions. The content in this guide is supported by data from the Home Buyer Conversion Report, as well as our practical application of home builder marketing services working with top builders in the country. If you'd like to learn how you can apply any of the strategies listed here, just get in touch with us. We'd love to hear your story.