Get the tools to make your Online Sales Counselor successful (and buyers happy).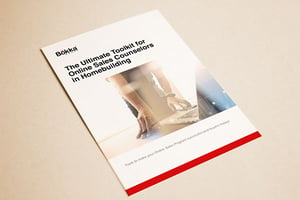 It's one of the fastest growing positions in the industry. The job of the Online Sales Counselor (also called an Online Sales Consultant, or OSC) is to help the home builder bridge the gap between website and sales center traffic. Nearly every shopper will come to your website first before visiting a model. Do you know what tools should you be using to turn these prospects into happy homeowners?

Learn the right metrics, tools and technology for the job, and focus your time and energy on home builder marketing efforts that result in more leads, appointments, sales, and happy customers.

This guide to the best Online Sales Counselor tools will make your Online Sales Program successful whether you're just starting out, or growing your team.
What's inside the Ultimate Toolkit for Online Sales Counselors in Home Building:
Primary job functions and metrics for the Online Sales Counselor
Technologies and tools to improve the customer experience and set more qualified appointments
The top resources Online Sales Counselors use to help home shoppers get what they need from your web site
Links, ideas, and comparisons of the top tools to improve your Online Sales Program