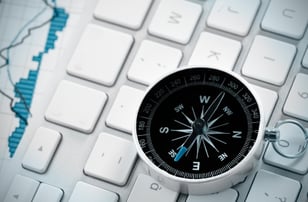 How leveraged is your online marketing?
For many builders, the challenge of 2013 is not how to get more online leads. The challenge is how to create effective, scalable systems for managing an increased number of leads within current resources (budget, staff, time). It's a question that builders around the country are struggling with, and a question that may have a surprising answer:
Reduce your number of leads
One of the ways that builders gain leverage is to go beyond the website traffic numbers to a deeper understanding of the quality of website visitors. In our Home Builder Conversion Report which surveys the digital trends of thousands of recent home buyers, we identify two types of website visitors: active and passive.
Active website visitors are those that are actively looking for specific information that directly relates to a short-term buying decision. These visitors can be identified by time on site, page views, the type of content they view (bottom of funnel topics versus the top of funnel topics), and which conversion points they use to engage with a salesperson.
In the traditional marketing mindset, the solution to attracting more active website visitors was to increase overall website traffic through social media, paid search, listing sites, and offline advertising. Based on this formula, the overall percentage of active buyers would increase as well.
However, there are a few basic flaws with this thinking:
Builders are at the mercy of large ad spends online and offline to meet sales goals, leading to higher cost-per-lead and cost-per-sale.
An increase in low-quality traffic translates to low-quality leads that can lead to poorly prioritized sales and marketing follow up.
Low-quality leads can produce ineffective sales forecasting, skewed lead-to-appointment conversion rates, and poor email campaign performance.
Creating a scalable home builder marketing plan in a strengthening market depends on the ability to drive higher quality website traffic from the outset. This begins with understanding which channels, topics, and personas are producing the highest quality of website visitor based on your goals. For many builders, this can mean completely rethinking where they are currently investing time and dollars.
Consider:
Only 16% of home buyers in our survey consider social media to be important.
Paid search was one of the least influential tools for buyers when researching a new home purchase online.
Organic search engine ranking was the most influential tool for people who are actively in the market for a new home.
For many builders in markets around the country, the question is no longer how to drive more leads. Sales teams are inundated with online leads, on-site traffic, and appointments. As home builders and marketing professionals, our role is not to cast a net across as many touch points as possible, but to narrow our focus and create the trust points that drive active website visitors, deliver high quality online experiences, build lead lists of engaged buyers, and streamline the process to build an effective and scalable organization.
Find out more about what home buyers look for online. Download a copy of our 2012 Home Buyer ConversionReport (no registration required).