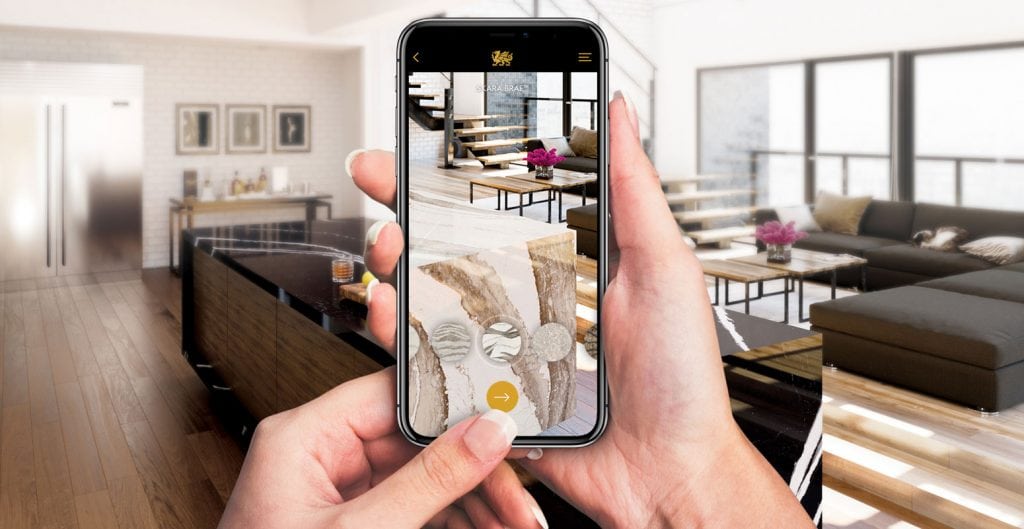 If you attended the Pacific Coast Builder Conference (PCBC) this year, you probably noticed one tech trend that stood out more than all the others: augmented reality (AR). People have been talking about it for years, usually in the same category as virtual reality (VR). And there's been all kinds of futuristic scenarios for how they will revolutionize the new home buying experience. You've probably even sat in on a conference session about it.
But what's really happening in the industry? Is this futuristic technology really turning out to be the next big thing for home builders? If so, who is using it and how? These are the burning questions for most of us in the industry.
What exactly is augmented reality (AR)?
The simplest way to describe AR is overlaying digital elements onto a live view of the world. Like Snapchat filters that let you add glasses and a mustache to a video of your face. Or the Pokemon GO craze where people would use their phone to look around the corner to try and spot a fictional cartoon character. It's different from VR, which is a completely digital version of the world, like being able to walk around in a video game. And then there's mixed reality (MR) which is a combination of AR and VR. All of these introduce limitless potential to improve the experience of marketing, selling, and building homes. But the one that seems to be finding the most widespread acceptance with builders so far is AR.
Is augmented reality just another fad?
One thing's for sure, it's easy to take a technology and make it into a gimmick. AR is no exception. But there are 2 main reasons why AR really is here to stay for builders. One is that it can be used simply by anyone with a smart phone. It doesn't require fancy goggles like VR, complicated instructions, (or vertigo). The second is that it allows any builder the opportunity to enhance an old-school process by introducing digital information overlays.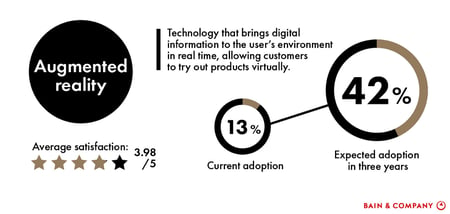 This could be as simple as holding up your phone to see digital overlays inside a model home - "featuring soft-close drawers." Or as elaborate as letting the user to digitally swap out every possible option in the model while allowing the customer to save pricing configurations. And if you consider the potential for AR during the construction process, it's no wonder the global AR market is expected to grow by $90 billion by 2020. And studies by Bain & Company also predict that augmented reality adoption will increase 300% by 2021.
How is augmented reality currently being used by builders?
It's actually pretty easy to get into AR if you're a home builder. The simplest way is to use it to enhance collateral materials such as flyers, postcards, packaging or any other item with interactive content, including video messages, Web and social links, photo slideshows, music clips and more.
Here are some examples:
Realtor.com has been using SignSnap and Street Peek to give prospects more information about a home by pointing their phone at a sign or the home exterior.
When panning their phones around a neighborhood, users can view price bubbles that will pop up over houses that appear within the Street Peek view finder.
How augmented reality is being used in sales:
Apps like Cambria AR (and others) - allow customers to visualize different solid surfaces in kitchens and bathrooms. Some are using AR to view small scale 3D models of buildings right on your kitchen table (check out this video).
Clayton homes uses augmented reality in their Home Previewer app to help customers visualize what their potential new home may look like on their land before they break ground.
Interior designers and merchandisers are taking a cue from retail and using AR to show furniture and textiles in a home, giving them a sense of space and scale before decorating a model. It's the same concept used by Sotheby's International and IKEA linked below.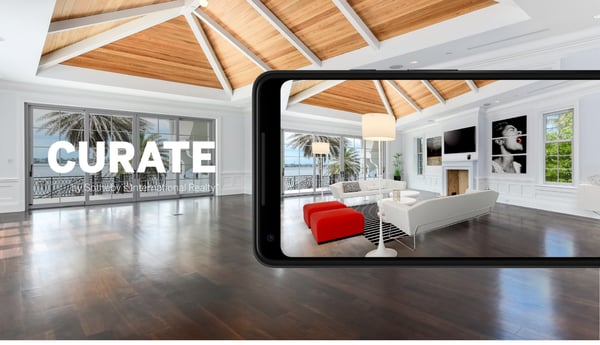 Sotheby's Curate - a new augmented reality application that lets home buyers virtually stage a home to visualize its potential.
Launched in the autumn of 2017, the IKEA Place app lets customers see exactly how more than 2,000 furniture items would look - and fit - in their homesConstruction:
How augmented reality is being used in construction:
Companies like SmartReality are using augmented reality in construction project development, management and operations. Users focus on a given design or plan file with the camera on their mobile device; the app then recognizes the design, and the screen overlays a virtual model of what the project will look like upon completion.
Here are 3 more apps for construction that allow you to step inside your CAD and BIM models.
Should you invest in augmented reality?
It's pretty clear that augmented reality is here to stay. And judging from the examples we're seeing throughout the industry it's easy to imagine all the possibilities for how builders can start using it. It can definitely add value to the process for both home buyers and internal staff. And the best part is that it's now cheaper and easier than ever to start doing it. If you've been wondering if this new trend is something you should invest in, the time certainly seems to be right.
At Bokka, we help builders get the most ROI from your investment in digital marketing and customer experience. If you'd like to learn more about whether a new technology is worth investing in, just send us a message. We'd love to hear more about your needs.