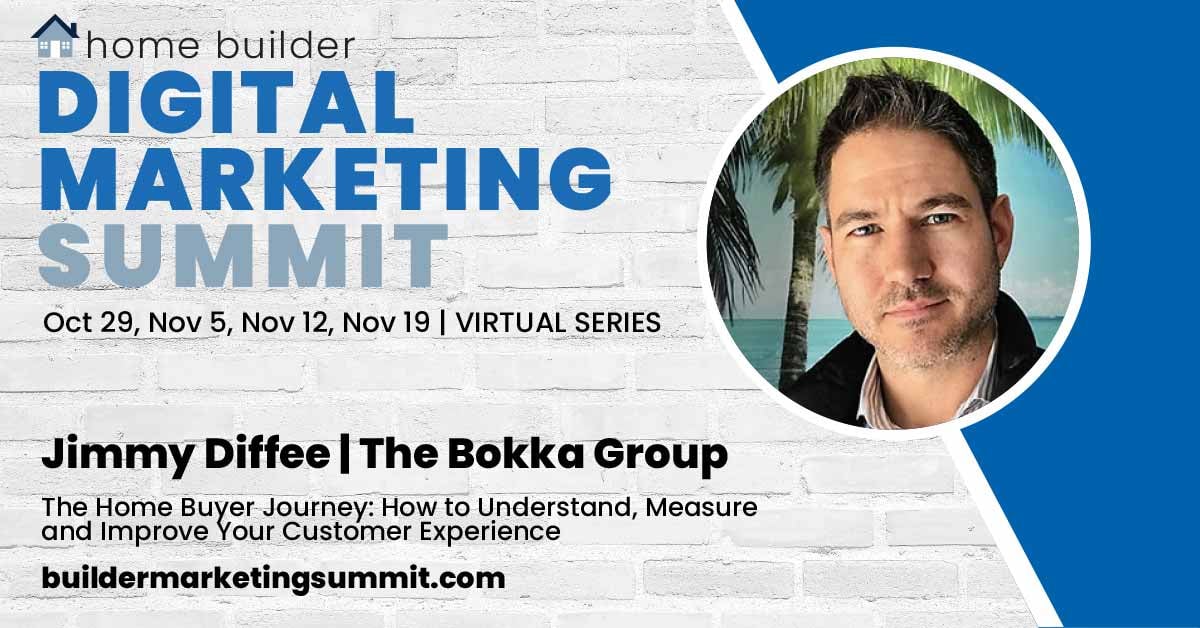 In-person conferences were pretty much the first thing to go for me when COVID hit. First it was PCBC, then Builder20 Groups, and then the Digital Marketing Summit, all of which Bokka planned to participate in to improve the home buying experience for our wonderful industry. PCBC and the Builder20 meetings were canceled. But the planners of this year's Digital Marketing Summit were quick to transition to a new virtual format – and made the series free for everyone.
So we won't get to escape to beautiful Phoenix this fall and catch up with all of you over drinks and dinners (and golf). But we'll still get the opportunity to do what we love, which is to share our passion for improving the customer experience. And since no one has the stamina to sit through 8-hour days of online conference sessions – I'm not sure how we did it in person, to be honest – it's been broken up into 2-hour sessions, once a week, for you to join from your home/office.
I'm proud to kick things off on Oct. 29th with the Keynote presentation:
The Home Buyer Journey: How to Understand, Measure and Improve Your Customer Experience.
The process of buying a home today is old-school, and does little to instill trust in our buyers. But technology is changing the game, from blockchain to virtual reality. It's just a matter of time before we're selling homes completely online. Disruptive giants like Amazon, Airbnb, and Uber realized this early, and built their empires on a foundation of self-service powered by the star-rating.
In this presentation, I will challenge you to think like a disruptor, and tap into the power of the customer journey to rethink how you market, sell, and build new homes.
So block off your calendar and head over here to register for free. Then send an email inviting your co-workers, friends, and anyone else to join. It's going to be great.
Thursday, Oct 29th / 12pm-2pm CST
My Buyer Journey Session is 12-1, and you'll want to stick around for Angela McKay's session on using email to build relationships.
Digital Marketing sessions continue at the same time every Thursday for 4 weeks, running through Sep 19th.
Here's the complete series schedule and speaker lineup
>> Here's the link to register FREE
See you there!