Below is a graphic of "Average Conversion Rates" taken from a presentation by the Bokka Group at the 2017 DCX Conference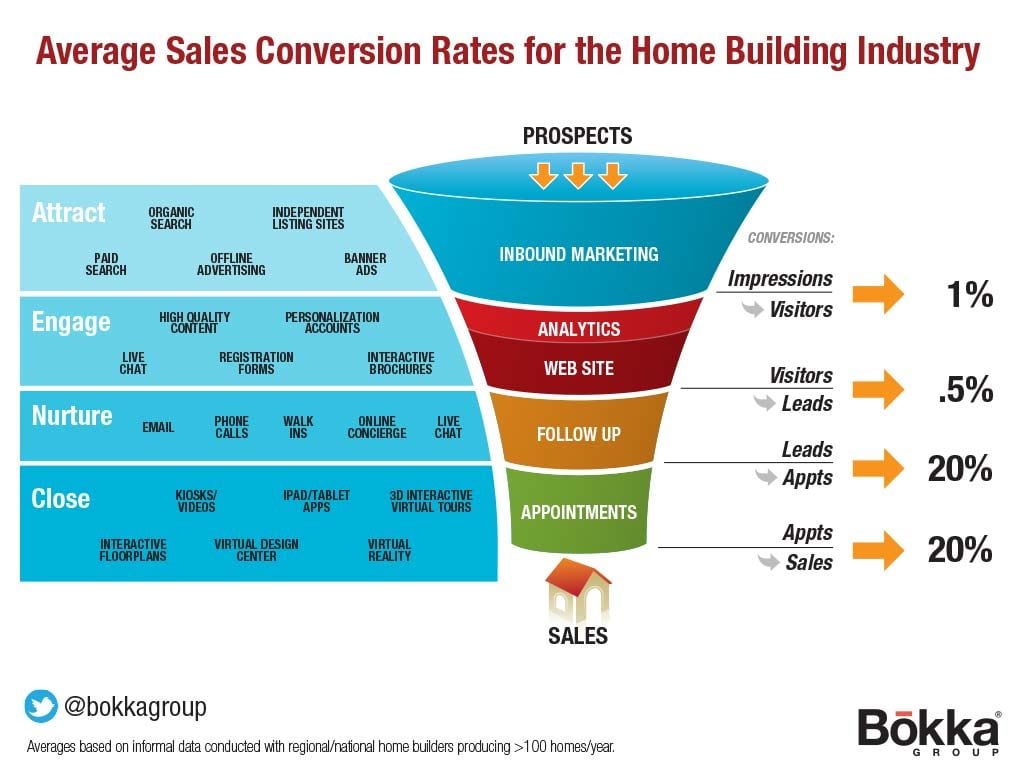 According to these average conversion rates, a home builder would need to generate the following for every home sale:
5 Appts / 25 Leads / 5,000 visitors / 500,000 impressions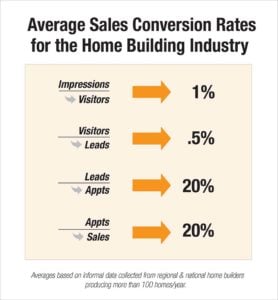 Using these average conversion rates, you can work backward to determine where you need to focus your sales and home builder marketing efforts. It's important that builders track these conversion rates through each stage of the sales funnel. By doing this, you can stay focused on the stage of the funnel that will have the greatest impact on your sales. Keep in mind, these are only average conversion rates, and they can vary from builder to builder. For example, home builders that have a person dedicated to all online leads (an online sales consultant) tend to see much higher lead-to-appointment conversion rates.
How a top 50 builder crushed these visitor-to-lead conversion rates
Builders that work with the Bokka Group for their home builder marketing strategies see much higher conversion rates than these. For example, this top 50 builder achieved an 11% visitor-to-lead conversion rate from paid search traffic. And by closely tracking this investment they found they had achieved a 96% decrease in cost-per-lead. See how they did it here >>
3 Examples of Builders that Outperformed Industry Average Conversion Rates
Are you a home builder interested in tracking your sales funnel conversions? How about getting the best ROI from your digital spend while crushing average conversion rates? If so, find out how the Bokka Group can help you do all of the above. If you're still not sure, check out the following case studies.