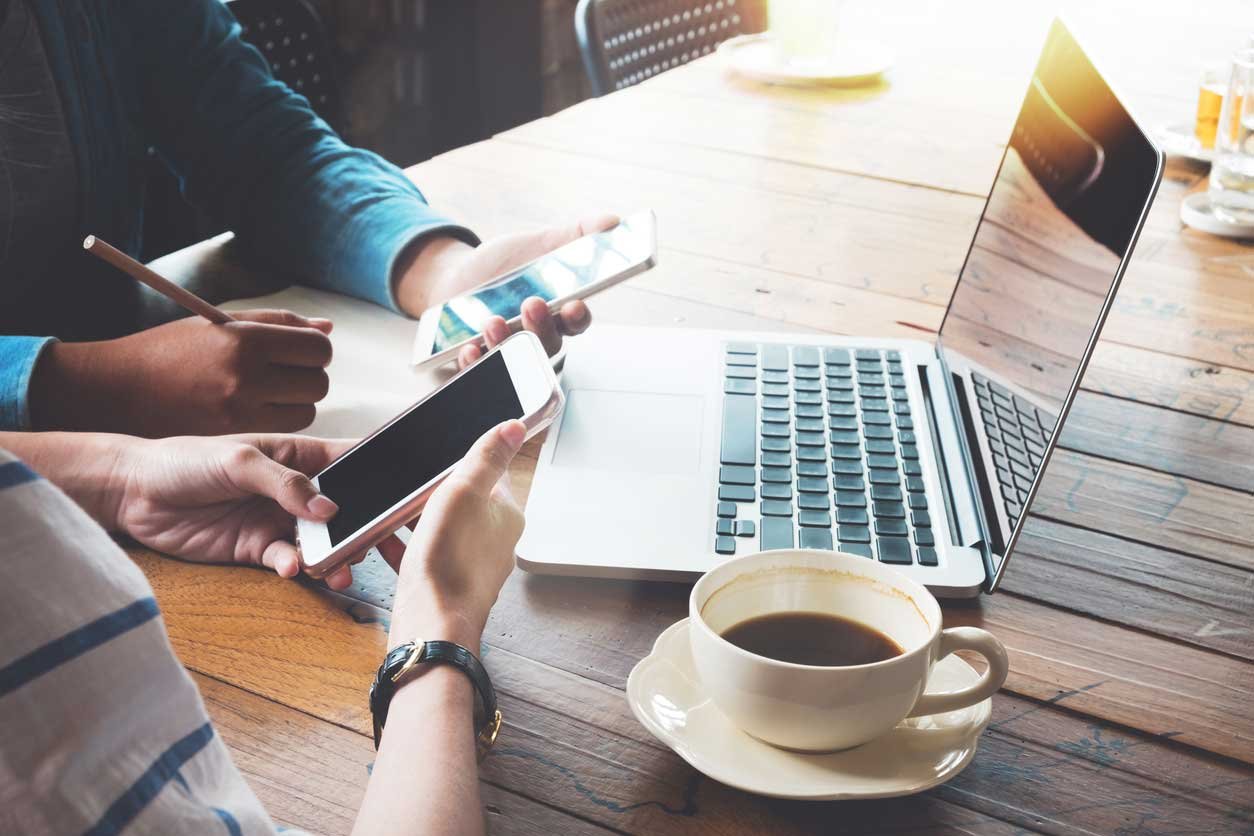 In today's densely-saturated home builder marketing landscape, email still reigns as a primary way for construction companies to communicate with prospects. But do you ever struggle with knowing what types of emails you should be sending - and why?
It's easy to get stuck on the hamster wheel of blasting out the same type of construction email marketing content every week. But it's important to have a strategy for the type of content you are putting out, as it will directly correspond to the type of response you get from prospects.
For the home building industry specifically, one of the main reasons email marketing is so prevalent is that it's a cost-effective way to communicate with all kinds of prospects, from tire-kickers to those that are ready, willing and able.
Keep in mind: these folks wouldn't have opted in to your email list unless they're somewhat familiar with your brand already and in the market for a new home (either now, or sometime in the future). However, this doesn't mean the same type of construction email marketing will work for everyone.
Your email list contains people at varying stages of the home-buying process.
You must come equipped with a variety of emails at your disposal in order to target each type of buyer at different phases.
In this article, we explore three type of emails that you should be sending: Awareness-Based, Awareness+Conversion-Based, and Inventory or Offer-Based. We will also explore why it isn't enough to simply have an engaging email (meaning lots of people open it); you also need to make sure that the content prompts people to take action.
3 Types of Emails You Should Be Sending and When to Send Them
#1: Awareness-Based Emails
Awareness-based is just a catchy term for emails that establish your brand and build trust and familiarity with your company. With these emails, you aren't as concerned with converting leads to sales. Rather, your goal is to introduce yourself and explain what's truly great about you. The heavier lifting (aka the conversion-focused content) will come later.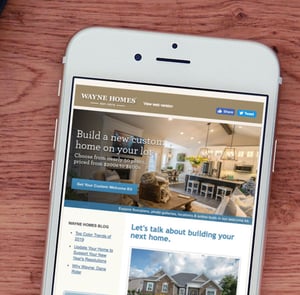 In terms of content, lean heavily on your company's Unique Value Differentiators. Have you been building new homes for over 50 years? Do you specialize in energy-efficiency and high-performance homes? Have you won awards for your incredible design and architecture? Celebrate the stellar amenities your communities offer. Give specific details about how your communities are near fantastic schools, parks, and shopping. This is the type of email where you can shout these accomplishments from the rooftop.
Ideas for awareness-based emails include:
Price-point -- but keep it high-level, i.e. "from the 400s". This way, you're setting the right expectations for the prospect, but you aren't getting into specific options/upgrades too soon.
Types of homes you build. Are you a custom home builder? Do you have a specific selection of floor plans that the buyer must choose from? Are you a combination of both?
Quality of materials you use or even specific brands. Is there one appliance company or cabinet type that you work with exclusively, and you think it's the best? Let the people know.
When to send them:
Our research has shown the ideal frequency is once a month or every 6 weeks. These aren't time-sensitive, but they are awareness-builders, so it's important to keep them on a regular rotation so that you're reminding prospects why they came to you in the first place.
#2: Awareness+Conversion-Based Emails
Next up, we are going to look at emails that deliver a two-for-one punch: they aim to raise awareness and get prospects to take the next step with you. Within the homebuilding industry, there are occasions where you not only want to increase exposure of your product and make your brand more visible, but you also want to capitalize on this interest right away.
Ideas for awareness+conversion-based emails:
Early Bird Pricing - This one always gets buyers on the phone. Some prospects love the idea of being first if they can get a "discount." Prices generally go up after the initial release anyway, so you really don't have to discount the pricing. Just frame it as "early bird" and limit the availability. You'll be surprised how well it works.
New Floor Plans - You're excited about your newest floor plan and all of its fabulous features. Here's your chance to reach people who might be interested in your homes, but haven't found that perfect floor plan yet. This could be it! (PRO-TIP: Try an email subject like: "Meet the Worthington" - we've seen great results from this approach.)
Model Home Grand Opening - This is a big one. Letting people know that they can come and tour one of your model homes is a big incentive. Get people off their laptops and phones and in the door (literally).
New Online Tools - Some people won't be able to make it to your models or offices due to a plethora of reasons which boil down to two things: distance and time. And for those folks, it's important you let them know you have new online tools that they can use to explore your homes. A few favorites include Matterport Virtual Tours, Interactive Floor Plans, Virtual Exteriors or Kitchen Designers, and more.
New Lots Released - Often a buyer may have been interested originally, but didn't like the lot selections.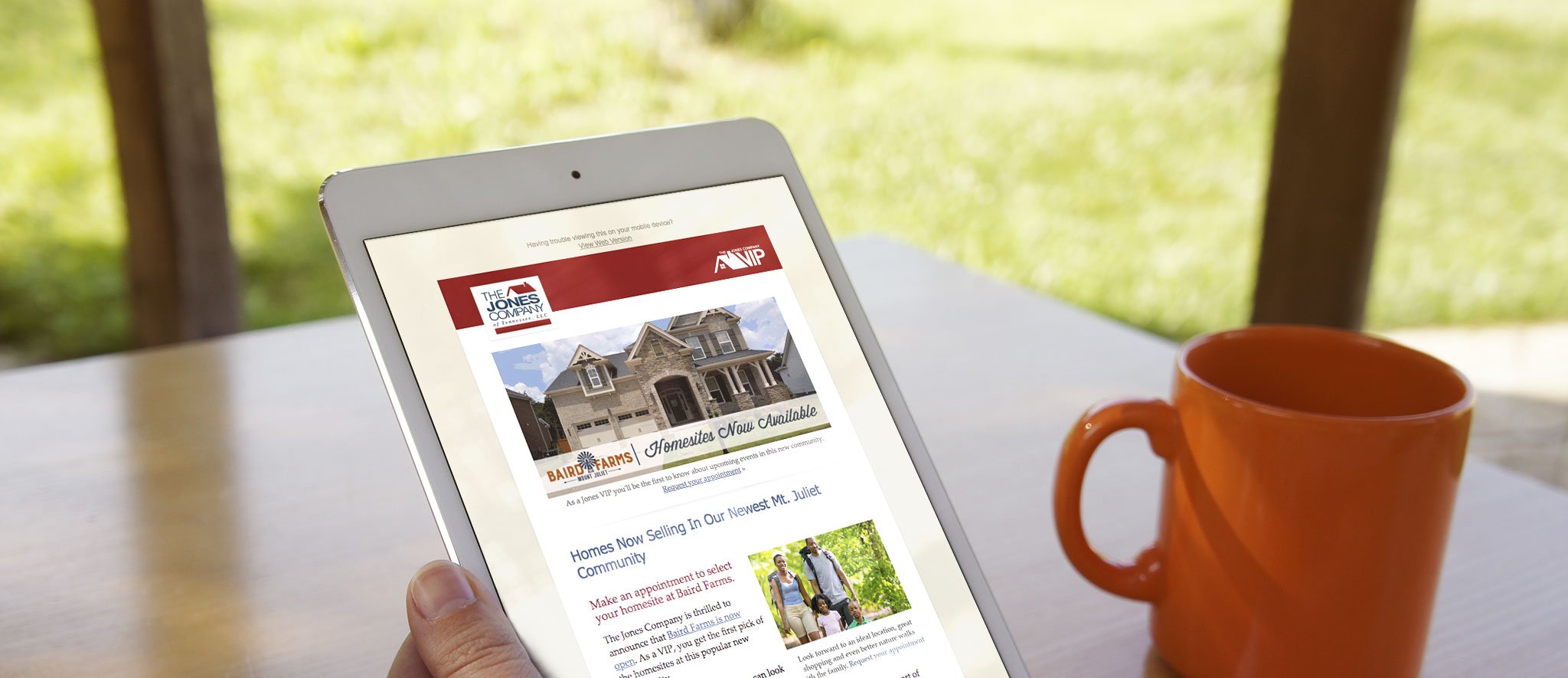 This type of content will pique the interest of both new prospects and more seasoned prospects. And once you've hooked them, you can move them to the next stage of the process. You've offered them something new and interesting, and now you can ask them for just a little something in return, like their phone number and purchase timeline. That way, you can have a trained New Home Specialist or Online Sales Consultant reach out to them and work with them on a personal level.
Some sample follow up questions:
What interested you about this floor plan?
Would you like to schedule a private tour of the Model Home after the Grand Opening?
Did the Exterior Designer Tool help you decide on a particular elevation?
These conversations will help build trust between your talented team and your prospects. It's important to have this as a goal for your emails from the beginning, instead of just batching and blasting.
When to send them:
Send out these types of email whenever you have something new to offer - which could range from once a month, to every other month. New product availability varies across builders but it's important to get these emails out right away when new product is available. Time is of the essence!
#3: Inventory or Offer-Based Emails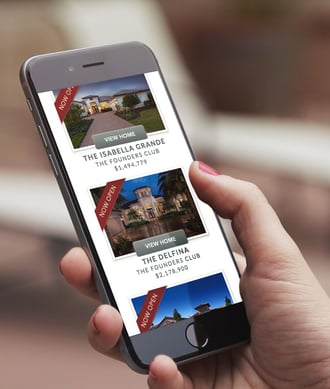 Last on the list of homebuilder email strategies, we have emails that center around inventory or special offers. You're probably already doing this. It's the most popular email marketing strategy because it cultivates immediate interest and helps people who were on the fence jump right over it (and you need to move this product faster). For new homebuilders, these types of emails are perfect for both warm and cold leads.
Why these emails work for both warm and cold leads:
For warm leads, these emails are delivering the type of content homebuyers want to see because they are actively looking and want to see available product and/or get a great deal now. These folks only need a nudge in the right direction and they're ready to take the next step.
For leads that have gone cold, this type of email is used to renew their interest. Use these emails to show them you have available homes near them, in their budget, that are available right now. Or tell them about the exciting new promotion you have that would save them money - if they act now. Get their attention back with compelling, time-sensitive information. Creating a sense of urgency (without going over the top) works exceptionally well.
When to send them:
For inventory emails, a consistent deployment schedule is key because you want to move your inventory as quickly as possible. For offer-based emails, your goal should be to deploy these emails right at the start of the offer-period and once or twice more during the offer-period, particularly towards the end. A last-chance message can push people forward and get them to act.
By using these 3 strategies, you'll take your email marketing program to the next level.
Our experience with home builders over the past decade has proven that these three types of email will help you to capture the interest of buyers at every stage of the home buying process.
This will absolutely up your sales game, as long as you have the right digital marketing strategy planned from the beginning, and know what next steps you want the buyers to take. Buying a new home is a journey that takes many twists and turns to get from searching online to signing on the dotted line. Your email strategy and content should match this journey so each email you send has a meaningful impact on your potential buyers.
If you'd like to learn more about how we can guide you to success with construction email marketing, just let us know.
We'd love to apply our years of experience working with home builders large and small to help take your program to the next level. Just send us a message - we're here to help!