Bad reviews come from broken experiences.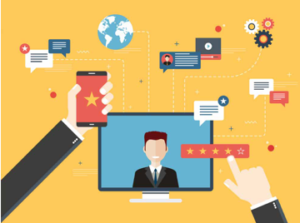 Unified customer experiences are rare these days. Think about a bad customer experience you've had lately. It likely had something to do with a disjointed process where you got stuck in the middle. For example, I regularly fly Southwest, whom I consider a model of great customer service. But I have a major problem with my customer experience lately.
As much as I travel, I rely on wifi to get work when I fly. So each time I board, I sit down and start the process of establishing an internet connection. This is where the frustration begins. I'm usually on my phone at this point, trying to wrap up an email. I sit down, connect to wifi, and go through the laborious process of paying for wifi. I'll spare you the details (if you've flown Southwest you already know) but it's about a 10-minute process that requires complicated forms, credit card inputs, mileage numbers, and errors. Once I finally give them their 8 bucks, I'm connected to the outside world through the slowest internet connection since dial-up. No joke.
What gets me is that I have the Southwest app, I'm a Rapid Rewards member, and they have all my information saved in my profile…including my credit cards (that's how I booked the flight). But once I'm actually experiencing the flight, I'm treated as if they have no idea who I am. I'm stuck in the middle of their disjointed process, and I instantly go from being a raving fan (who sings their praises in presentations to thousands of people) to an angry customer (writing a blog post for thousands more to read).
A broken experience just makes you feel like a number.
At times like this, I empathize with the thousands of home buyers that get stuck in the middle of our builder-centric processes. And I understand why they write bad reviews.
The power of the star-rating has grown to epic proportions, thanks to Amazon, e-comm, and social media. But there are major forces working against home builders when it comes to getting a five-star rating. The first is complexity. There are so many moving parts to buying and building a new construction home. With silos like marketing, sales, design, finance, construction, trades, and warranty it's tough to pinpoint where customer experiences go wrong. This is the main reason we have difficulty creating a unified customer experience.
The second is lack of resources. Typically, the marketing department is the team tasked with reputation management (think social media). Marketing can respond to angry customers, but there's not much they can do to fix the problem and assure future customers it won't happen again. So it becomes an act of fighting fires, moving from one Facebook blaze to the next, then back again. All in the name of "brand management."
Three steps to create a unified customer experience and improve reviews
Instead of a broken customer experience where customers feel like numbers, we need to create a unified customer experience strategy and treat them like human beings.
1) Map the customer journey.
Journey mapping is a method of getting into the shoes of your customer to understand how they feel at each stage of the process. This is the first step toward a unified customer experience. To map the experience correctly requires getting buy-in throughout the organization, which is why most builders engage an outside expert like Bokka to facilitate the process. The goal is to create a visual representation of the buyer journey and determine what the customer is thinking, feeling, and doing along the way. This map helps us identify where the customer delights (and suffers) during the process of purchasing, building, and living in her new home.
2) Consolidate customer data into a centralized profile.
This is where marketing has a distinct advantage. With the technology and data available today, we're able to start building profiles before a prospect even signs up on a website. Consider a lookalike campaign, where you match the profile of our target demographic and serve them relevant ads on social media. As soon as they give a name/contact you can add it to the profile and start progressively improving it. The key is to make the data accessible to everyone in the organization. It could be as simple as using a shared Google Doc, or as complex as a data management platform (DMP) like Salesforce DMP or Adobe Audience Manager.
Remember, access to the profile is critical.
The last thing you want is to collect all this valuable data, only to have the customer show up to a sales appointment to the tune of "what brings you in today?" This is where Southwest fell short for me. I'm a business traveler, so they should have known how important wifi is to my experience, and made it a seamless part of my travel. Without a centralized profile, your unified customer experience could fail quickly.
3) Personalize the experience based on the profile
Once you know what's important to the buyer, make sure key handoffs identified in the customer journey map include important data from the profile. And use this information to personalize the experience. Instead of "what brings you in?" it should be: "Welcome Karen, I see you're interested in the Bellaire plan with the bonus kids' room. I have all the info you need right here. Would you like to tour the model?"
If you've ever stayed at a Ritz-Carlton, you've likely experienced this type of personalization. At every interaction, they are learning what's important to you as a guest and adding it to your profile to enhance your current stay, as well as all future visits. If you tell them you prefer sparkling water to still, you can bet that's what you're going get from then on.
Authentic personalization based on that unified profile is what sets them apart from every other hotel. And it's what creates memorable customer experiences that people share (and write reviews about).
Find out more
To learn how Bokka can help you get better reviews through journey mapping, creating a unified profile, and personalizing the experience based on the profile, get in touch with us today.