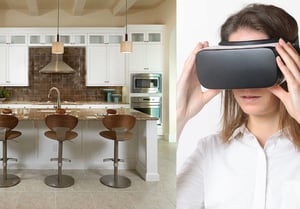 While almost everyone understands the benefits technology can bring, deciding which tools to integrate into your customer experience strategy can be extremely daunting. Technology moves quickly and we often find ourselves in a position where the technology we chose just a year ago is already outdated.
So we've compiled a list of some of the most important technologies builders are using to improve their customer experience. If you're a home builder looking to invest in tech that's here to stay, instead of just the latest fads, this list is for you.
Here are 13 of the most important technologies builders use to improve their home buying experience:
1: Virtual Tours
With virtual reality mainstream, we're now seeing the technology converge with augmented reality to give us mixed reality, which is the future of new home visualization. Whatever technology you're using for virtual home tours, it's a step closer to being able to sell homes online.
How virtual tours improve the customer experience: The most exciting and emotional part of the home buying experience happens at the beginning, when a prospect imagines living in one of your new homes. Without virtual tours, the buyer is forced to visit a model and engage with a salesperson, which she may not be ready for. With them, she can shop from home in her pajamas.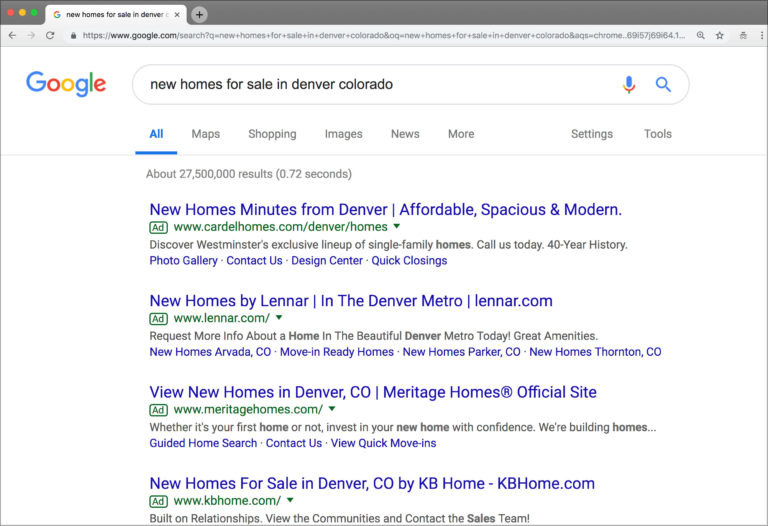 2: Paid Search
Also called Search Engine Marketing (SEM), or Google Ads (formerly Adwords), paid search is the search engine results you pay for. Showing up at the top of organic (non-paid) search results is ideal, but extremely challenging in highly competitive markets (try having your web site show on the first page of results for a customer searching "New Homes for sale in Denver"). Paid search placement for builders is definitely not a new technology, but with technological advancements and the rise of voice search using Alexa, Siri, and HeyGoogle, it's more relevant than ever.
How paid search improves the customer experience: With the right approach, this is one of the most cost-effective ways to get in front prospects that are actively shopping for your product and location. Being super-relevant is the best way to convert prospects, so make sure you have a customer-focused messaging strategy in place to give them exactly what they searched for once they get to your web site.
3: Listing Web Sites
These are 3rd-party web sites that list communities, homes, and builders all in one place. Examples include Zillow, NewHomeSource, Realtor.com, etc. The technology often pulls in direct feeds from home builder web sites.
How listing sites improve the customer experience: Similar to paid search, but these are one-stop shops for prospects to see and compare different builders and homes at once. This is more competitive for you but more efficient for the home buyer during their research process. If you're not listing with them, you're probably missing out on a lot of qualified traffic, because it's where most prospects prefer to start their research.
4: Data Management Platform (DMP)
Targeting the right home shopper at the right time is critical to getting the most from your ad spend. Data Management Platforms pull in different sources of demographic, psychographic, and behavioral data that allow you to target detailed segments of your market. This technology is a critical component of home builder media placement, and is the backbone of data-driven marketing for home builders and allows marketing professionals to gain unique insights into their customers.
How a DMP improves the customer experience: Instead of sending typical generic ads that say "new homes from the $450s to 750s" - you can use the customer data collected by a DMP to create ads specifically targeting your segment's interests, location, and budget. Any time you use data to speak your customer's language, you're creating a better, more relevant shopping experience.
5: Personalized Content
The more data we collect on our prospects, the more we can personalize the experience of shopping online. For example, Netflix and Amazon's web sites use viewing/purchase history to suggest similar products, resulting in a more tailored experience. Using a dynamic marketing platform (e.g. Hubspot) builders can customize their website's content to match the demonstrated interests of their buyers. This keeps content fresh and relevant.
How personalized content improves the customer experience: Personalized experiences are becoming the norm for home shoppers. Just as a buyer wants to personalize her new home to fit her taste, she appreciates a tailored shopping and buying experience.
6: Landing Pages
Landing pages are the single best way for a builder to improve lead conversion rates and improve ROI on marketing spend. They're custom created web pages that serve as a front door for your prospects. They take into account where the user is coming from (i.e. a social media ad) and use the same language and offer to create a meaningful next step in the process.
How landing pages improve the customer experience: Nothing's worse than clicking on a compelling ad (e.g. "See low maintenance town homes in this new community") and getting directed back to a builder's home page. Landing pages bridge this gap and create a logical next step for buyers, reducing friction and the number of clicks it takes to find the right product.
7: Live Chat
Chat bots are all the rage these days, and for good reason. It's open access to customer support. Whether your live chat technology uses chat bots or a good old fashioned human being (staffed by your Digital New Home Specialist or Online Sales Counselor), it's a must-have in this age of instant gratification. Buyers expect it, and research shows people of all ages use it.
How it improves the customer experience: Finding and buying the right new home is not an easy process. And let's face it - home builder websites can overwhelm a customer with all the plans, options, and pricing. Live chat shows that you're there to be a trusted guide throughout the process.
8: Customer Relationship Management (CRM)
Every sales team has one, although whether they use it or not is another story. Whether it's Lasso, Sales Simplicity, SalesForce, or some other tool, it's the place where all your customer data lives. Without one, your sales and marketing team are shooting from the hip, and all the precious customer data you gather ends up sitting on a shelf somewhere (figuratively speaking). The best-used CRM's allow everyone in the organization, from Marketing to Warranty, to access important details about the customer (see more about selecting a home builder CRM here).
How a CRM improves the customer experience: This is probably one of the most important technologies on the list. It's the thread that runs throughout the buyer's journey, giving everyone in the organization the insight they need to treat the buyer as an individual.
9: Accessible Customer Profiles
Ask your customer what matters most in their home. Put that info in a big red folder and make sure everyone that interacts with the customer reads it. That's the idea behind accessible customer profiles. For most builders, the profile lives virtually in the CRM, but not everyone has access to it. If you really want everyone to be in touch with the buyer's needs, then everyone has to know what those needs are.
How accessible customer profiles improve the customer experience: Every customer wants to feel like you understand them. When you hand the customer off to the next department (e.g. from sales to design) an accessible customer profile is the key to a smooth transition, so the next person understands them as well as the first. Remember: your customer doesn't see you as sales, design, construction, etc. They see you as one builder.
10: Marketing Automation
With marketing automation tools (e.g. Marketo, Act-On, Hubspot) builders can target customers with automated (and personalized) messages across email, web, social, and text. Sounds great, right? It can be, with the right planning and resources. Think about a follow up drip campaign (which is a time-triggered form of marketing automation). Once it's in place it saves time, but the entire workflow needs to be thought out in advance. The same is true for all marketing automation workflows.
How marketing automation improves the customer experience: This is another one that enhances personalization of the customer experience, especially during the research phase. And when combined with progressive profiling (next on the list) it's even more powerful.
11: Progressive Profiling
We love to get as much information about our customers as possible. But it's not necessary to ask for it all at once. Long web site forms can be a real turn-off. Progressive profiling breaks it into smaller chunks. When a visitor fills out a form for the first time, they are required only to complete a few form fields. The next time they visit you may ask for a bit more, and so on.
How progressive profiling improves the customer experience: With so many privacy concerns, prospects are put off when you ask them too much personal info up front. A better experience is to just ask for the most important info (e.g. email, budget and timeframe), and let the user know you're using it to better match them with their perfect home.
12: Online Pricing Tool
This could be one of the most hotly-contested technologies on the list. With so many plans, options, and other factors, price-outs seem like more art than science. But self-service is coming to home sales, and buyers are going to expect accuracy and transparency in pricing before they trust a builder enough to buy from them.
How online pricing tools improve the customer experience: Trust is everything to buyers, and pricing is one of the biggest factors. When a buyer can know exactly how much the home and options cost, she can stop worrying about whether you are trying to squeeze every penny from her, and focus on sharing pics of her dream home with everyone around her.
13: Feedback Gathering Platform
For a home builder to back up their promise of delivering amazing customer experiences, they must always know what the Voice of the Customer (VoC) is. Most builders already have some sort of "survey platform" for gathering customer feedback. One key to getting this technology right is choosing one that will allow the entire company to act on the customer feedback in a meaningful and timely way. It's not a new concept, but the technology has now made it easier than ever to roll out surveys, leading to major overuse by nearly everyone. So bear this in mind when choosing a platform for your Voice of the Customer program. And the best ones also allow you to capture the Voice of your Employees (VoE) as well. (Related: The most advanced customer survey solution for the home building industry)
How a VoC platform improves the customer experience: This one should be a no-brainer. Listening to, and acting on, feedback from your customers is one of the biggest differentiators between builders that talk about improving the customer experience, and those that do it systematically. Customers want to provide feedback to you, but they need to trust that you're actually going to do something about it for them. Not just give them another "please help us improve" survey after they've already moved into their new home.
---
Bottom line: take a holistic approach
At the Bokka Group, our focus is on creating a great experiences as well as measuring customer experience, and the technologies we choose are all about creating a holistic experience that increases the likelihood a lead will result in a sale.
We've done extensive research on these technologies, as well as customer journey mapping for top home builders to help us create and distill this list into something helpful for the average builder.
If you'd like to know more about any of these technologies, and how we have helped top builders use them to create memorable customer experiences, just drop us a line.