Do you need a new home builder website?
It's not a question about how your website looks, or how old it is, or how much you paid for it. The question of whether or not you need a new website in 2013 is not answered by consultants, or your executive team, or even your frontline team. In many ways, it's not even a question for your buyers – at least not directly.
The most effective homebuilder websites, like the most effective homebuilder marketing, is driven by data. A website analytics program will tell you everything you need to know about what is working on your website, what isn't, and where specifically you should spend design and development dollars in 2013 (if at all).
Before investing in a new homebuilder website, here are three questions to consider, as well as real-world examples of how data can be used to determine how well your website is currently performing:
1. Does My Website Visually Connect with Buyers?
When we were approached by Southwest Florida luxury home builder London Bay Homes to lead a strategic repositioning initiative earlier this year, their existing website did not reflect the luxury brand audience that they hoped to engage. Website analytic data revealed that this visual disconnect between their online brand and their product was creating a high bounce rate, low page views, low return traffic, and low time on site. Using this data, it was clear that the website was creating a missed opportunity for the builder to connect with their audience. By redesigning their website to create a visual that was more appropriate for a luxury consumer audience, London Bay Homes saw an 853% jump in the conversion of website visitors to leads in the first 30 days.
2. Is it Mobile-Friendly?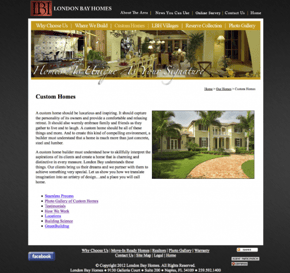 National Housing Quality Silver Award winner Wayne Homes had thousands of website visitors each month and conversion was well above industry average. Despite this success, website analytics demonstrated an increasing percentage of people visiting the site from mobile devices including tablets and smartphones. By identifying these trends in the data, we were able to build a new responsive website that created an optimal experience on any computer or mobile device.
When the new responsive website – one of the first in the homebuilder industry – launched this Fall, data showed an immediate increase in mobile engagement.
3. Is My Content Engaging Buyers?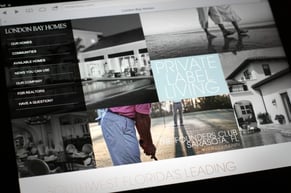 Creating fresh, frequent and quality content serves the dual purpose of online prospecting (SEO attracts a targeted audience to your website) and conversion (high-quality content and meaningful opt-in opportunities increase the conversion of website visitor to lead). By creating a method for measuring the data of how potential buyer was already engaging with the site, we were able to redesign the website for master-planned community Banning Lewis Ranch to produce a 23% increase in conversions.
Data-driven website initiatives are more likely to identify key strengths and weaknesses before you select a design and development partner. Data can help you set realistic benchmarks for the performance of a new website and prioritize development costs based on business objectives.
Need a comprehensive analysis of your homebuilder marketing? Our Marketing Effectiveness Evaluation is the perfect tool for 2013 planning.