A Guide to Responsive Website Design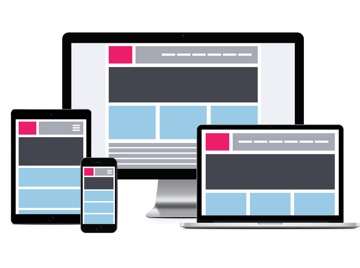 Have you noticed? Your brand is shrinking.
With the release of the iPad Mini earlier this month and a flood of competing products, each attempting to fit more technology into smaller and smaller devices, chances are very good that your next buyer's first impression of your brand may be smaller than you think. It's likely to be on a mobile device that is a fraction of the size of the screen your website was originally designed for.
Have you looked at your website on your Smartphone or tablet recently?
If the challenge of keeping your home builder website design updated to accommodate every gadget-du-jour seems expensive and overwhelming, there is good news. It's responsive website design.
What is Responsive Website Design?
Responsive website design is an approach to website design that detects the type of device a potential homebuyer is using, then automatically adapts to deliver an optimal user experience whether the user is on a Smartphone, tablet, laptop or desktop.
This means that whether your website visitor is clicking through your floor plans while viewing a 27" screen or swiping through your photo gallery on the latest iPad Mini, they are able to easily navigate your website and find the information they need. This includes floor plans, virtual tours, photo galleries, content, and more.
Responsive website design means that builders do not need to invest in the expense of a separate mobile website or app. Builders can invest in a single online asset that creates a consistent brand experience across any device.
Why Does Responsive Website Design Matter?
How important is responsive website design for home builders? Here are a few statistics to consider:
Tablet adoption has gone up 400% in the last year, and 1/3 of all adults in America are expected to own a tablet by 2016. There are over 91 million Smartphones in the US and 9 out of 10 Smartphone owners use their device daily.
But this isn't a conversation about chasing statistics or trends. It's about creating exceptional experiences for potential buyers wherever they may find you.
How Does Responsive Design Work?
Responsive website design requires more than converting a website that is designed to be viewed on a desktop to fit on the screen of a Smartphone or tablet. It requires an entirely new approach to website strategy. And here's where it gets tricky.
Potential homebuyers are very likely to need something completely different from your website based on the device that they are using. Consider:
The tablet outranks computers, Smartphones, and print as the preferred method for reading for news or entertainment.
82% of Smartphone users check and send emails daily.
88% of tablet users use their device in their living room, and 79% use it in the bedroom.
Tablet users are 3x more likely to watch a video on their device versus a Smartphone.
Responsive website design begins with developing a strategy based on the different devices that potential buyers may use to view your website, and how each visitor is most likely to engage based on their device.
How Does Responsive Design Look?
What are the specific applications for responsive design in the homebuilder industry? When we met with NHQ Silver Award winner Wayne Homes to create a responsive design for their new website, the mission was clear. We wanted to create an interactive experience that made it easy to find, view and compare different floor plans on a mobile device, without compromising user experience.
By using responsive design, we were able to incorporate a floor plan search feature into their website that adapts to any device. This makes it easy for potential buyers to find what they're looking for whether they're at home, at work, or driving by a Model Home Center.
How Much Does Responsive Design Cost?
One of the biggest obstacles for the homebuilder industry in adapting to the growing mobile market has been budget and focus. At a time when many homebuilders were operating on leaner marketing budgets, spending money on a mobile initiative such as an app or separate mobile website was not a priority, particularly without a clear understanding of the role of mobile in the builder's sales cycle.
Responsive website design breaks down the barriers and lets builders focus on a singular online asset (website) that serves all audiences (desktop, laptop, and mobile) for slightly more than the cost of a traditional website. In other words, it's often cheaper and more efficient to create a single responsive site than multiple versions of a site which to cater to different devices.
This doesn't necessarily mean a responsive site is best for every situation, since each builder's needs may be different based on their target audience and product offering. But as the market strengthens and many large builders are reassessing their online marketing efforts, responsive design represents a competitive advantage that enables builders to reach more buyers with user-friendly interactive experiences on almost any device. Responsive design enables builders to centralize all devices (computer, tablet, and Smartphone) to a single sales funnel that focuses on sales and marketing efforts and creates measurable results.