Looking for ways to get more traffic to your website? Pay-Per-Click could be your secret weapon.
For home builders, Pay-Per-Click (PPC) campaigns are a great way to generate leads and drive traffic to your website. And the best part: it's faster and easier to implement than organic Search Engine Optimization (SEO). By targeting specific keywords and demographics, you can instantly reach customers who are actively searching for new homes or builders in your area.
Additionally, PPC is easily tracked and measured, allowing home builders to see which ads/keywords are performing well and make adjustments as needed. This makes PPC campaigns a great way to generate traffic to your homes and communities. Organic SEO is also important, but it requires a lot more time and resources to implement correctly.
So what is PPC for home builders?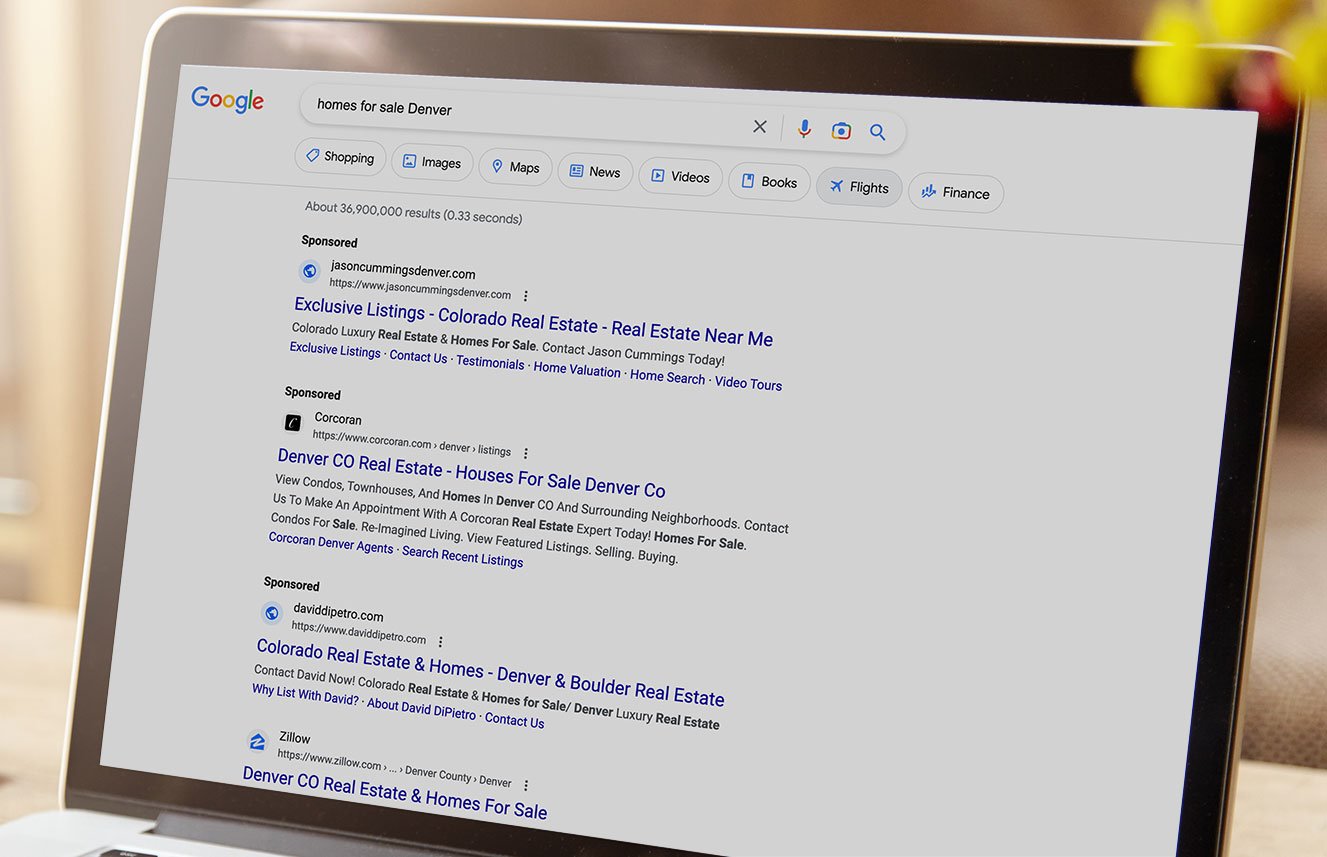 Pay-Per-Click (PPC) is a type of digital home builder marketing where you pay a fee each time one of your ads is clicked. Also called paid search, PPC is a term that includes social media advertising, display ads, shopping ads, etc. PPC campaigns are typically run on search engines, such as Google or Bing and the user only pays when the ad is clicked.
(Check out this article for a complete list of home builder marketing channels)
For example, Apollo Homes specializes in building custom on-your-lot homes in Denver, CO. They want to increase brand awareness and generate more website traffic and leads. They decide to run a PPC campaign that targets prospective homebuyers in the Denver area searching for keywords like "custom home builder" or "on your lot home builder."
Apollo creates a Google Ads account and sets up a campaign with a specific budget. When someone in the targeted area searches for one of their keywords, their website link will appear in the search results. If the person clicks on the "Sponsored" link and visits their website, Apollo pays for that click. Pretty simple.
*Not sure how to budget for your new PPC campaign? Check out this article for helpful tips.
PPC vs SEO for home builders: choosing the winning strategy to increase website traffic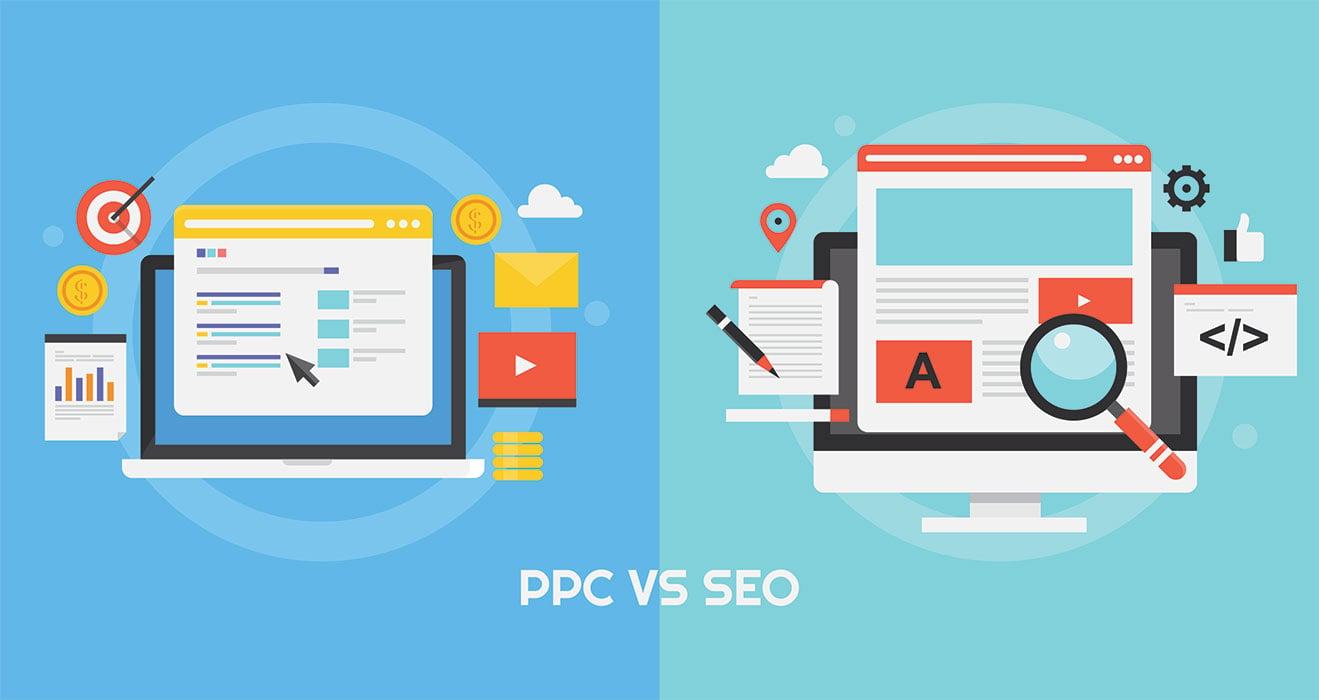 For small to mid-sized homebuilders in competitive markets, utilizing a PPC strategy vs. SEO is essential since it can be nearly impossible to appear in the top 10 slots organically. Why? Because they're competing against large companies like Redfin and Zillow as well as national builders with big budgets like Lennar and KB. It could take months or years to show up near the top of search results. That can be a dealbreaker for many builders considering SEO as a traffic generator. Also notable:
PPC ads are usually placed at the top of the search results page, above organic results, while SEO results appear below the paid ads.
PPC campaigns can be launched quickly and can generate results in a short period, whereas SEO takes time to yield results, and it's a long-term strategy.
PPC can generate a high volume of traffic in a short time, while SEO traffic is dependent on the website's ranking position, which can take time to improve.
PPC is a paid advertising model that generates immediate results, while SEO is a long-term strategy that requires time and effort to rank high organically. This doesn't mean organic SEO doesn't have its place. But if you're wanting to quickly boost traffic due to changing market conditions, availability, or your budget - we recommend going with PPC.
5 Proven Paid Search Strategies to Boost Home Builder Website Traffic

:
1) Target the right keywords
Identifying and targeting the most relevant keywords for your business can help ensure that your ads are being seen by potential customers who are likely to be interested in your products or services. Reviewing your current keyword list to make sure that they are relevant as well as expanding your list based on services is a great starting point.
Target Competitors - Add your competitor's name to your keyword list so you'll appear in search results when someone searches for them. This increases your brand's visibility. Additionally, when someone is searching for your competitors, they are interested in new home construction. By targeting these specific keywords, you're able to attract highly targeted traffic to your website.
Use Geographic Keywords - Include geographic keywords in your keyword list such as 'Denver, Boulder, Erie, etc.' This helps reach a more targeted audience. The more relevant your geographic keywords are, the higher your click-through rates and conversions will be.
Use Community-Specific Names - Like geo keywords, include community-specific names. This allows you to reach a more targeted audience while also giving you a competitive advantage. You could face less competition from other home builders who are targeting more generic keywords. Better visibility = better ad placement and potentially a lower CPC. Caveat: if it's a brand new community name with low awareness then there might not be anyone searching for it yet. In this case, focus on the closest towns nearby.
Include Unique Features - Anything that sets you apart from your competitors. If you're not already including descriptive features like farmhouse-style homes, townhomes, etc. then you're missing potential buyers who are looking for those types.
Use Keyword Variations - Common variations - i.e. homes vs. houses - should be targeted in your PPC strategy. Using keyword variations, you reach a broader audience since your ads appear for a wider range of relevant search terms.
2) Exclude negative keywords in your PPC campaigns
It's important to review your keywords and exclude keywords irrelevant to your target audience. Here are some examples of negative keywords for builders:
Geo/Location - Make sure that you are excluding specific locations that have similar names as yours. For example: a builder which has the name of a city, let's say Dallas Home Builders, but they are located in North Carolina and not Texas. You'll generally want to exclude prospects searching for homes in Dallas, TX - since you don't build there. We've seen many builders wasting money on clicks, simply because they didn't set exclude certain locations.
Custom vs. Production - If you only build production homes (with few modifications) you probably don't want the high-end "true custom" buyers in your sales funnel. So you'll need to make sure that you add "custom" (and its variations) to your negative keyword list so you don't attract the wrong type of buyers. The same goes for the opposite scenario. This will make your ads more relevant.
MIR vs. OYL - This is a big one! Are you an On Your Lot builder? Only offer Move-In Ready homes? Then be sure to add the types of builds you do not offer to your negative keyword list. Be sure to consider keyword variations here as well.
Exclude Features You Don't Offer - Just like number 2 above, if there's a type of home you don't build (e.g. low-maintenance), it's a good idea to exclude those negative keywords as well.
3) Optimize your landing page for maximum traffic and conversions
The landing page is exactly what it sounds like - the page a prospect lands on when they click your PPC ad. This is one of the most overlooked aspects of a builder's lead-generation campaign. Don't just send them to your home page. Spend some time thinking through the optimal pathway your user will take from searching for a home to contacting you.
Be sure you understand the path your user is taking when creating the landing page.
It helps to create a workflow diagram that details what the specific user is doing, what their needs are when searching, and how each step in the process will help them accomplish their goal (at the same time accomplishing your goal of lead-gen). Even if it's a wireframe or napkin sketch, it will help you create a seamless process that creates value for the prospect.
Here's a typical user path:
Step 1: Searches google for "low-maintenance homes in Denver"
Step 2: Clicks relevant PPC ad
Step 3: Gets to landing page talking all about your "low-maintenance homes in Denver" –> Completes web form to receive valuable information [data gets sent into CRM for follow-up]
Step 4: Get immediate email confirmation that someone will be in touch asap
Step 5: Get personal follow-up within X hours
Although this scenario is fairly generic, you'll get the best conversion rates when you focus each step on the prospect's specific needs and pain points. Don't use generic marketing - this is highly targeted traffic with a high intent to purchase. That's why they're actively searching for you. If you blow it on the landing page, you're just wasting money on those clicks.
Landing pages are so crucial we dedicated an entire resource to it here: Home Builder Landing Pages: 10x More Leads vs. Your Home Page.
You must make sure your landing page has keywords relevant to your audience, has high value for your prospect, and is conversion-centric – meaning highly focused on generating leads.
Focus on these specifics for your PPC landing page:
CRO (Conversion Rate Optimization) - This is the process of increasing the number of conversions on your website. Check out this article on how you can utilize it on your landing pages.
Keyword Rich - Strategically place keywords throughout your site so that when a user searches a term, Google recognizes your site as relevant. This helps drive traffic to your website, increases your visibility, and leads to more conversions.
Strong CTAs (Call-To-Action) - A clear, strong CTA directs a user to take the action you want them to –providing them a sense of direction and purpose. It also creates a sense of urgency which encourages users to act quickly. For example, schedule your tour now or sign up to be on our VIP list!
Provide Downloadable Assets - By providing a downloadable asset, you increase your chances of lead conversion. For example, create a guide showcasing the Top 5 Floor Plans Under $250k and request they complete a short form to have it emailed. This can be a lead magnet if the downloadable asset (the guide) is relevant and provides value to your prospects.
4) Leverage ad extensions for a more engaging PPC campaign
You may be wondering, what are ad extensions? Ad extensions are additional pieces of information that can be added to your PPC ads. They provide additional details that increase the relevance and effectiveness of your ads. This also provides more options for user interaction. Some common ad extensions include sitelinks, callout extensions, and call extensions.
They provide additional information and make your ads more prominent, which can lead to higher click-through rates and better overall performance.
Sitelink - Links to specific pages on the site –shows extra information on a product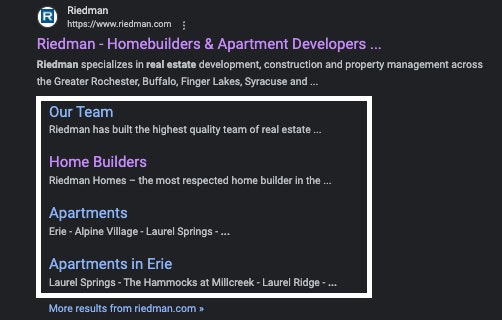 Callouts - Appears below ad description –includes extra information i.e. 24-7 customer service, custom home builder, on your lot

Call - Click to call number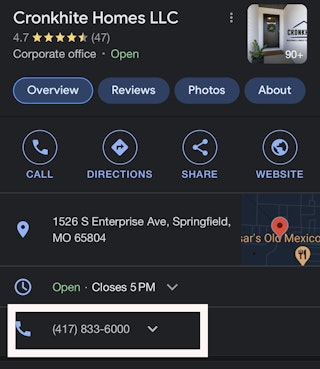 Image Extension - As a homebuilder, if you're not using Google's image extension, you're missing out. Image extensions allow you to add images to your PPC campaign so when a user searches for a keyword associated with your homes, the ad will appear with the image alongside it. This is a great way to increase your visibility, showcase your products, and improve your CTR. *note Google only shows the image extension for the top 3 placed ads.

5) Continuously monitor and analyze performance to improve traffic and lead generation
Regularly monitoring and analyzing the performance of your campaigns can help you identify areas for improvement and make adjustments to optimize your campaigns over time. Google Analytics is a great tool to use to help make sure you are optimizing your campaign correctly. By monitoring your ROMI (return on marketing investment), you can identify which keywords, ads, or landing pages are generating the most revenue. Knowing this helps you to optimize your campaign by focusing on the elements that generate the highest return. You can allocate more budget to the profitable keywords and ads and improve the landing pages to increase conversions.
PPC campaigns are not something you build and then never check again. If you're looking to optimize your campaign and keep improving, we recommend regularly checking the following metrics:
CTR (Click Through Rate) - By monitoring your CTR, you are able to identify which ads are performing well and which ones need improvement. This will help you to optimize the lower-performing ads for better performance.
Conversion Rate - Monitoring your conversion rate is essential for measuring the success of your campaign. It helps identify areas of improvement, and which ad groups and keywords are generating the most conversions.
CPC (Cost Per Click) - Ultimately, keeping an eye on your CPC helps to control your advertising costs since it will ensure you're not paying too much for each click. This allows you to maximize the value of your PPC budget.
CPL (Cost Per Lead) - This is very useful when comparing ROI for your varying media investments and helps Sales and Marketing make smarter budgeting decisions.
CPA (Cost Per Acquisition or Sale) - if you're able to close the loop, this is an extremely powerful metric for the C-Suite.
Stay ahead in the home builder industry with effective Pay-Per-Click strategies
PPC campaigns are just one part of your overall home builder marketing plan. But they are a powerful way to quickly generate leads and drive traffic to your website.
To maintain a competitive edge and achieve long-term success, it is crucial to improve and optimize your PPC campaign regularly. By consistently monitoring and improving these tactics, home builders can stay ahead of the curve and ensure your PPC campaign remains cost-effective and high-performing, ultimately driving more leads, appointments, and sales.
Let Us Help You Optimize Your PPC Campaign for Increased Website Traffic
Reach out using the form below, and we'll be in touch to help you take your PPC campaign to the next level.