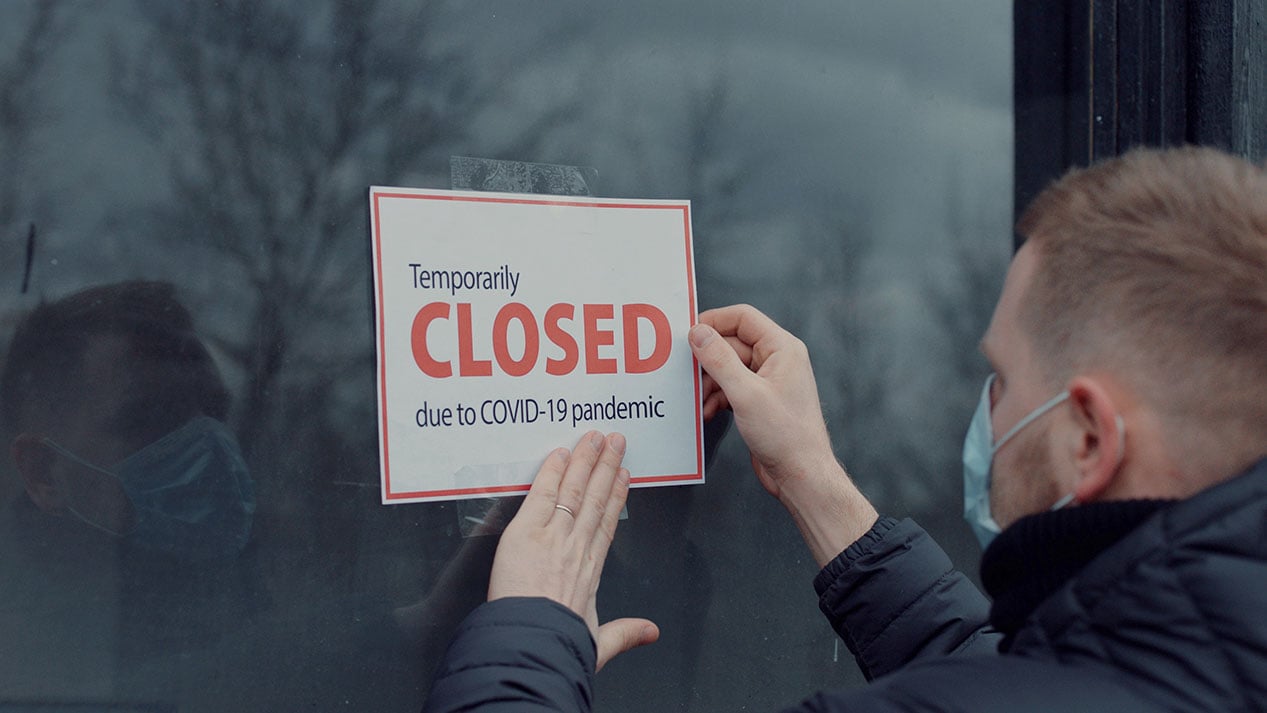 In March 2020, the world as we knew it came to a screeching halt with the arrival of COVID-19. Home buyers, sellers, and builders alike sat in the uncertainty of how the industry would be impacted. Overnight, government restrictions were put in place determining which businesses could remain open. In some states, construction was deemed nonessential and sales offices and model home centers all shuttered temporarily. Most have since reopened, only to close again with the pandemic resurgence. While the long-term impact still remains to be seen, one thing is clear: the time has arrived for all homebuilders to embrace virtual tools out of necessity, rather than curiosity.
The fallout from COVID has presented unique challenges for all industries. Overnight, companies were forced to leave behind their old ways. Homebuilders have now entered a new era of working remotely, selling remotely, and building homes under a whole new set of constraints.
In what ways have homebuilders shifted their business model and operations?
Zoom has proved invaluable for internal operations as well as prospect meetings. We're seeing more drone and aerial coverage of properties under construction. Open Houses have gone virtual. Self-tours of properties are sky-rocketing. Virtual tours of both model homes and listed homes have become the expectation. In many ways, COVID has forced homebuilders to catch up with the industries that have been embracing virtual tools and technologies for quite some time.
Self-tours of new homes are exploding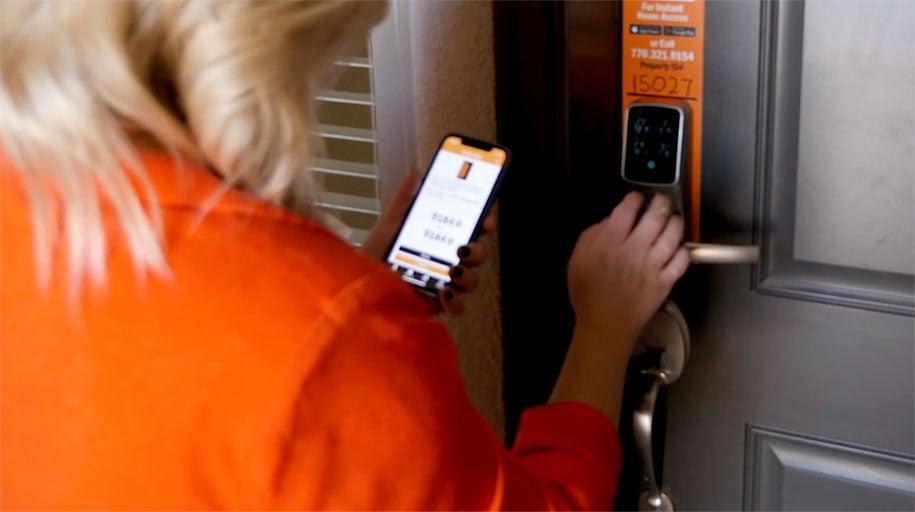 Lynne Davis was a realtor in 2005-2006. She struggled to get prospective homebuyers to meet her to tour listings in person, even back then. She knew there was a better way for prospects to self-tour, and came up with the idea that has become NterNow - a self-service access system for touring new homes. It gives "drive-buyers" the convenience of unassisted home touring while keeping the property secure.
While NterNow has been successful, it wasn't until COVID that their clientele has really moved beyond the early adopters. Her research shows that buyers are now looking to home shop more frequently, more independently, and at their own pace. Self-service tools like hers are providing just that - but its not just to the benefit of the homebuyer. Prospects 'check-in' to get secure access to the home, and NterNow is providing their clients with data about how serious a prospect may be based on how much time they spend in a home.
Builders share how successful they've been with the fast adoption of the self-home tours.
A Tennessee builder was having an average of 8 showings per home, per week before COVID. After implementing NTERNOW's self-tours (during stay-at-home orders) their showings spiked to 11-12 showings per home, per week. All while sales centers were completely closed down. When their sales centers opened in week 5, showings jumped to 15-17 showings per home, every week. It's clear that homebuyers were more than ready for these new technologies to surface.
Lynn told me, "I have seen builders make strides in adding new technology at a faster rate than ever before. We've been talking about self-service touring and virtual tours and AR and VR for years, but all of the sudden with COVID they had to find out how to make it happen quickly. We're excited about this change that does provide this customer experience - a new and different path to go on."
Chatbots are connecting the dots between automation and personalization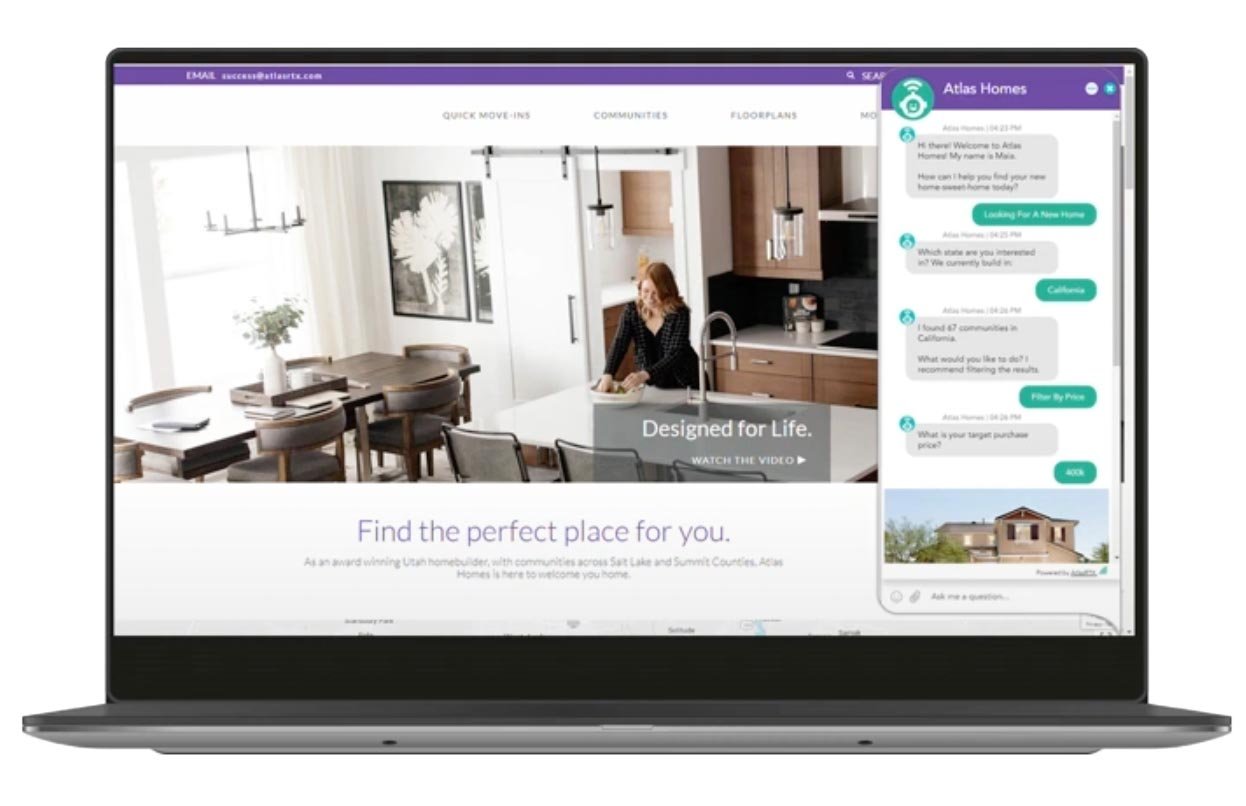 Bassam Salem, CEO at Atlas RTX, spoke with me about how his company Atlas RTX has been impacted during COVID. Atlas provides an 'automated, web-based, and text-based real-time experience (RTX) to engage with prospective buyers in real-time, to support the online sales consultant with automated sales followup, and to improve customer service.' Their vision is to make artificial intelligence accessible to sales and marketing - essentially functioning as an assistant to each of those departments.
More than 2/3 of online chats happen after hours, and so if you aren't able to staff a call center, you're missing out on 2/3 of chat opportunities.
These chatbots can help with a search, collect contact info, have that information ready for a salesperson first thing in the morning. The OSC, or online sales counselor, isn't just getting a lead on their desk, they're getting an entire transcript of the conversation that took place the night before so they know exactly what they're looking for.
One of the greatest challenges to homebuilders is following up with prospects after they've toured a model home.
It can be challenging to engage a homebuyer when buyers are moving away from answering phone calls and emails. Now text messaging has arguably become the best way to follow-up. With Atlas, chatbots actually text the prospect on behalf of the brand rather than the salesperson. During these unprecedented times, having these technologies have proved invaluable for homebuilders. Salem indicated that the theme of automation, virtualization, and self-service has been accelerated over the past 5 months and he predicts that in the next 20-30 years, we'll be seeing an even greater shift toward a self-selling environment as younger, more tech-savvy users become the leading homebuying demographic. When I asked Bassam if he thinks the homebuilding industry would be permanently different moving forward, his response intrigued me.
Homebuilding is actually 3 businesses in 1
1) A retail business - in the business of selling homes
2) A manufacturer - as opposed to companies like Ford or GM who don't retail their product, they just manufacture them
3) A real estate business - homebuilders often have to own land for years before selling
He went on to describe that all 3 facets of the business are going to be disrupted in different ways:
Retail - the experience is going to look a lot more like what you get with amazon with increased transparency, the ability to add upgrades and options to homes, and see how the price will be impacted.
Manufacturing - we've been building homes the same way for 120 years - with very little changing and the time has come to do it differently -we'll be seeing more homes built in factories - even high-end homes - that will continue to disrupt and impact scalability.
Real Estate - locale will matter less. As remote work becomes more prominent and people are looking to move out of the town center because of congestion and prohibitive cost, we'll be seeing more people moving out of the city and into the country or suburbs.
AtlasRTX and NTERNOW are just two of many tools available to homebuilders are they're doing more and more remotely and virtually.
But what do the builders have to say? How have they adapted to selling homes during this time?
How a midwest builder is using technology to improve sales and customer experience.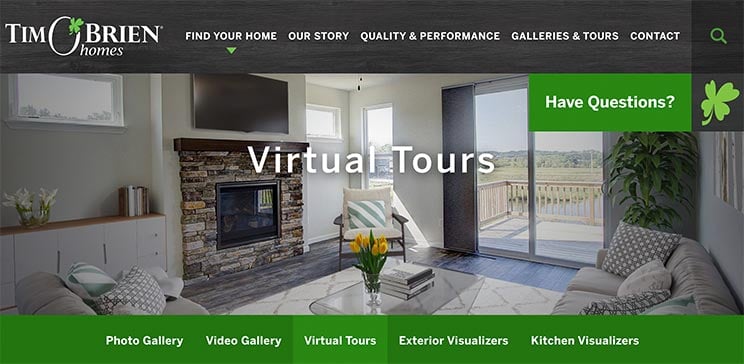 Most homebuilders I spoke with expanded their Zoom accounts overnight for both internal operations and meetings with buyers. I spoke with Ryan Hillgartner, Director of Marketing at Tim O'Brien homes who said they immediately amped up their professional photography and added standard procedures to do Matterport Virtual Tours on every home, rather than just model homes. This helped equip the sales team with more ammo for selling.
Sharing virtual tours also helped increase their engagement significantly on social media and increased return visits to their web site. He also shared they invested in more drone videos, working with VRXmedia, who are turning around drone videos within 24 hours of shooting them. They've started using Facebook live, publishing 33 different videos - everything from home tours, to neighborhood and community tours, showcasing green construction, interviewing staff, featuring local businesses that may need extra support during this time, and so on.
Just prior to COVID, Tim O'Brien launched the use of Builder Signal, a communication tool that allows builders to easily send construction updates to homebuyers.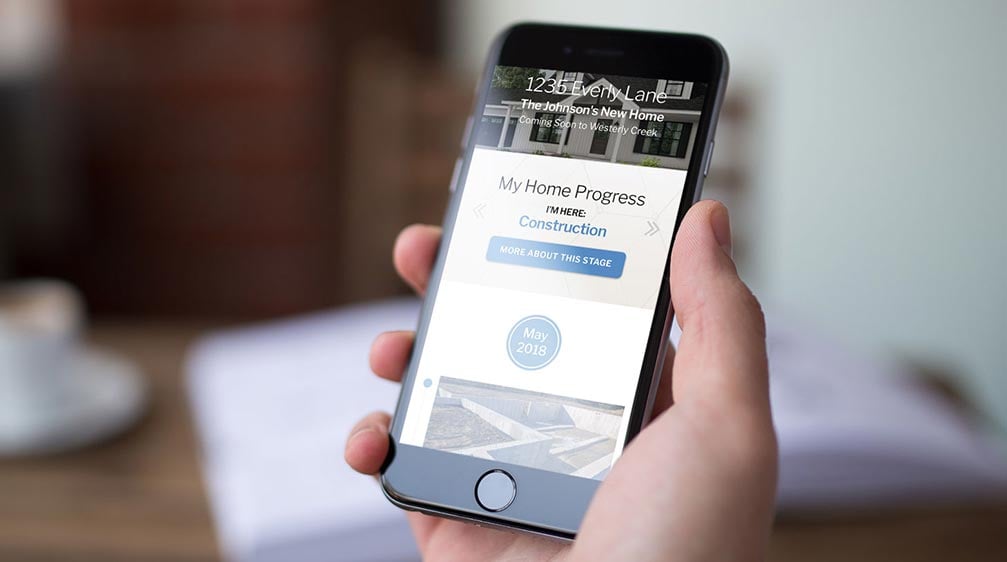 Homeowners are given a custom website that allows them to track and share these updates. TOB's sales team has been incredibly consistent in sending these updates out weekly. In a time of such uncertainty, homebuyers are given peace of mind that progress is being made on their home.
By embracing these virtual tools and technologies, both before and during COVID, homebuilders like Tim O'Brien Homes have been able to maintain strong numbers, despite uncertain economic times. Typically, TOB's key selling period each year is between March-May, but it looks like that period is instead shifting to May - July this year, a quarter that historically has been slower. Ryan confirmed that 'homebuilders embracing technology and being open to new things are the ones that are going to excel and do well, the folks that are hunkered down in their model homes and not being proactive on social or with smart digital tactics are going to be the ones that struggle'.
The nation's largest home building franchise takes technology to the next level with 55+ buyers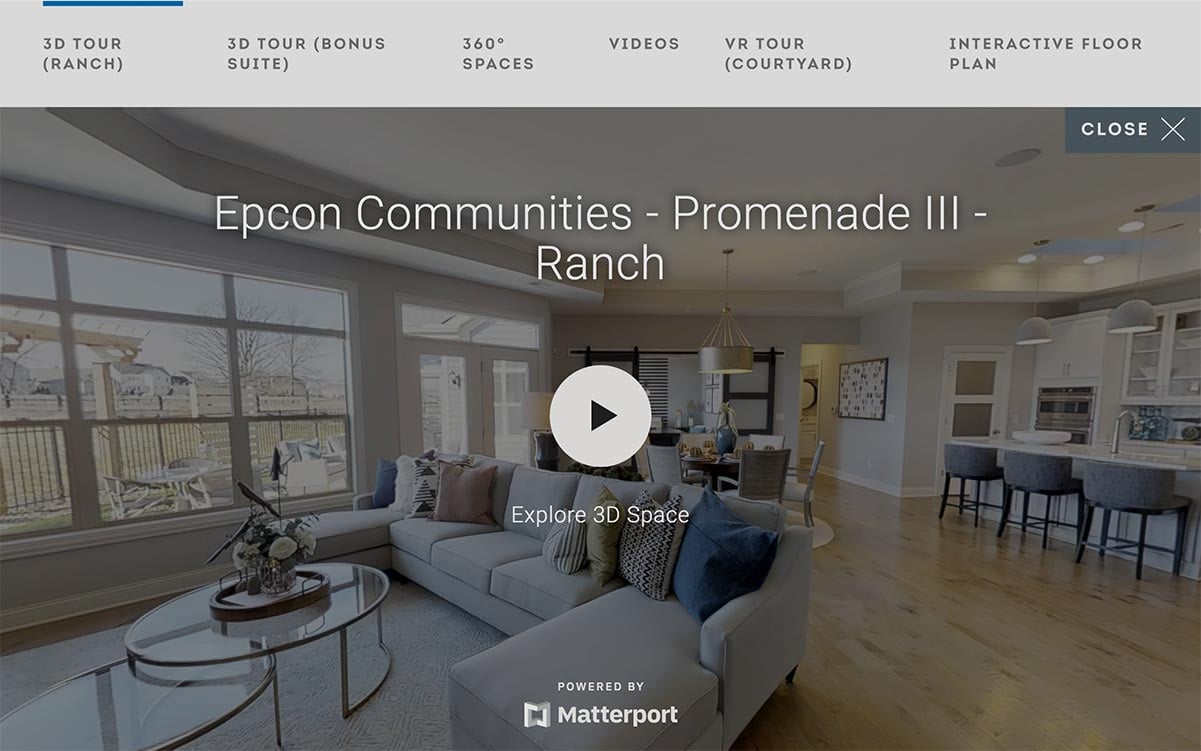 Rob Krohn, VP of Marketing, at Epcon Communities, emphasized how important flexibility and adaptation have been for their team this year. As a franchise builder, Epcon has a large team that has been able to lean on and feed ideas off one another this year. In just a few weeks, all 54 of their franchise builders, marketing staff, salespeople, and corporate staff were fully onboarded to work remotely and keep buyers engaged and involved in the buying process. Like so many builders, it wasn't that Epcon started using new technology as much as it was how they changed the frequency of use and the way they were using existing technology. For years they've been investing in digital renderings of exteriors and interiors of homes, 3D virtual tours of homes, Matterports, photography, video tours, etc. but overnight these assets became "must-have" rather than "nice to have."
Epcon builds primarily in the 55+ market and Krohn points out that people often underestimate this demographic when it comes to the adoption of technology. Not surprising to Krohn, this demographic has completely jumped on board in terms of virtually shopping for homes. The homebuyers are proving to be just as adaptable as the builders, regardless of age. While technology has been important to the shift of home selling and building, the Epcon team has continued to put an emphasis on the fundamentals and importance of connecting and engaging buyers in an authentic way - whether in-person or virtual.
Krohn put it this way:
Nothing we did in March, April, or May led to increased traffic or sales. It is what we've been doing the past several years that made the difference. Consistent marketing strategy, investment in tools and resources, testing and refining tactical advertising platforms, ongoing improvement to our website, etc. is what made the difference. We had to be flexible to change, but like investing, we followed the plan we had established, we didn't throw it all out based on an unforeseen virus/economic situation. The sound strategy holds up over reactionary tactics.
One of the nation's leading builders of single-family homes gets serious about virtual reality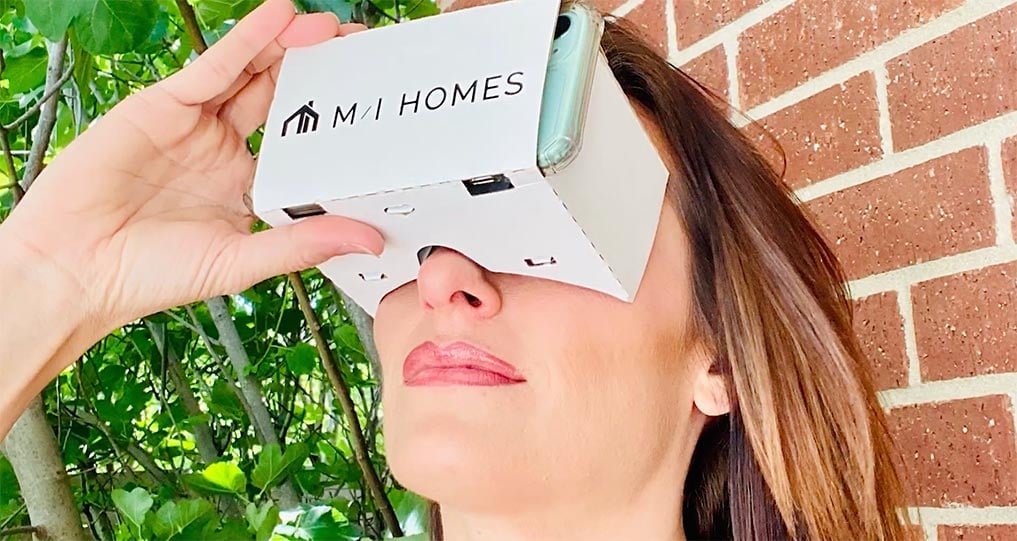 As sales centers began to close down across the country, M/I homes made a bold move. They knew that things would be going virtual, but wanted to do more than just Matterport tours and video walkthroughs. So they launched a VR headset initiative in March.
I spoke with Will Duderstadt, VP of Corporate Marketing, at M/I Homes. who shared with me how this new initiative came to fruition. Virtual Reality is not something altogether new to the homebuilding industry (we've been writing about it for years), but it has spent a good bit of time on the sidelines - until now.
M/I Homes introduced their 'Virtual Reality Headsets', that allow homebuyers to tour dozens of plans – all from the comfort of their own home. And M/I sends the headsets to prospects free of charge. In just 3-5 days after requesting a headset, homebuyers are able to tour M/I's homes and dozens of plans. And for those that are feeling crafty, they're even offering instructions on how to create your own virtual headset. This thinking outside of the box is engaging customers, building relationships, demonstrating product, and offering a fun and unique home buying experience that buyers love. If you're curious how much traction this initiative is getting, take a look at this video (that has over 100k views and growing). When it comes to delivering exceptional customer experiences, M/I is knocking it out of the park.
Steve Jobs once said, 'Innovation is the ability to see change as an opportunity, not as a threat.'
I think we're already looking at 2020 and realizing one of the defining characteristics of this year has been just that - change. Change in routine, schooling, work, technology, and relationships. Change in just about every aspect of life as we know it. But we're also seeing great innovation as a direct result.
Years from now I think we'll be looking back at this historical time, realizing that while it wasn't easy, this pandemic has positively impacted the home buying experience by empowering prospects to take their home search into their own hands. Virtual tools have finally become ubiquitous in the industry. It's becoming obvious that in the months, years, and decades to come, homebuyers not only will be using these tools in their new home search - they, in fact, are going to demand them.
If you'd like to know how you can sell more homes with virtual tools, just let us know. We've been helping builders experience growth and adapt to changing times for decades.