Personalized marketing is becoming the new normal
In the last few years, the home builder marketing landscape has changed dramatically. Traditional methods of segmentation are no longer enough. Companies like Amazon and Lyft have made personalized customer experiences a cornerstone of their business, and in the process, completely changed consumer expectations.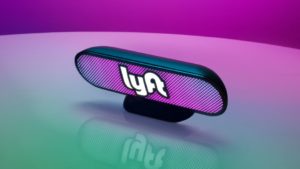 Take the recent Lyft Amp for example — a device the car-sharing company uses to display the current passenger's name. When you get into the car, you feel like the service is personalized to you. And more importantly, it helps you know you're getting into the right car. This can be a pretty big deal if you're at the airport and there are a line of Uber and Lyft cars waiting to pick up other passengers.
Why home building marketers should invest in personalization
While not all companies have these kinds of technological resources at their disposal, there are many reasons to start investing in personalization efforts. Research shows that implementing a personalization strategy increases customer loyalty, drives higher conversion rates, and grows revenue — with an estimated $800 billion of revenue shifting to the 15 percent of companies that get it right over the next five years. Based on a study conducted by Forrester Consulting on behalf of Conversant, 94 percent of marketing professionals rate personalization as "important," "very important," or "extremely important" — yet only 13 percent of organizations in the United States are actually implementing an advanced personalization strategy.
This means that many companies see the value of these efforts, but are only beginning to put them into practice. Those companies that begin to invest in these efforts now will reap the greatest rewards in the next few years, and those that don't will quickly fall behind.
Personalization is about more than just using someone's name in the subject line of an email.
Like Lyft's Amp device, it's about creating a data-driven experience, straddling both digital and physical touch points, and focusing on the needs and preferences of your customers to actually improve the experience for them.
What does a personalized experience look like for home builders?
In the most basic form, a personalized home building experience means using available data to provide the home shopper tailored content delivered at the right time. In practice, this could include one or more techniques, such as personalized calls-to-action, visuals, and contextually relevant product recommendations and offers.
How to start personalizing like Amazon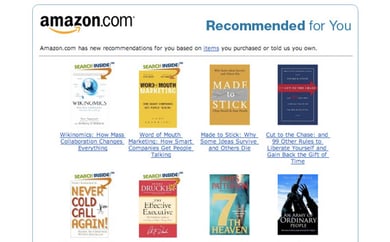 For instance, if we know that a particular user has expressed interest in ranch style homes, either by filling out a form, downloading a brochure, or simply viewing products, we can use that information to promote relevant content such as specific product recommendations, or possibly a blog post for those at the top of the sales funnel conducting initial research. This technique is used extensively throughout Amazon.com, displaying products relevant to your recent purchases— or items that you've expressed some interest in.
On the extreme side is artificial intelligence (AI)-driven personalization, which allows companies not only to react to users' actions but predict future behavior and automate tasks that may otherwise be hard to manage on an individual level. Correctly implementing an advanced personalization strategy that can evolve and keep up with shifting market trends can be challenging, therefore AI-driven solutions aim to deliver mass personalization at scale.
Keep your personalization efforts consistent
Remember that the ultimate goal is to create a holistic experience, and you should consider all pieces of your plan as one whole experience, not just a collection of different methods pieced together. By thoughtfully combining multiple techniques into a comprehensive personalization strategy, you can create and maintain a true one-to-one relationship with your customers.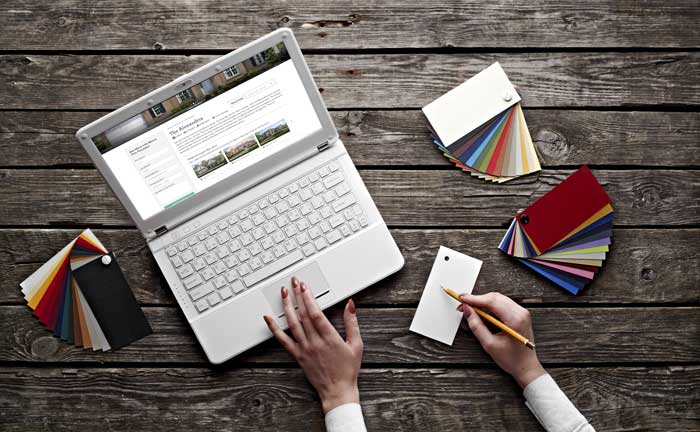 Building a customer profile is critical to personalizing the home-buying experience
Creating a unified customer experience starts with understanding your desired outcomes and what information you need in order to personalize the experience. You then build a customer profile around this information.
While there are certain trends we can gather through analytics and anonymous data, personalized interactions will begin once a user has filled out a form on your website. This allows you to gather basic personal information such as their name and email address, and capture it in your home builder CRM. Be sure to include all available, relevant information related to that user's submission. If they've filled out a form to request more information about a particular floor plan or model home, make sure that data is included in their profile.
Ease the customer into giving you their info with progressive profiling
After the prospect has completed the first step (i.e. providing their name and email address), we can adapt and look for opportunities to collect additional information with a technique known as progressive profiling. Subsequent forms could ask questions that help us better understand the home shopper and her interests on an individual level:
What is their desired price range?
Would they like to be contacted to schedule an appointment?
Do they have anything that's non-negotiable, such as a chef's kitchen or master suite?
Buyers are more likely to provide their personal information a little at a time than through a long web form with all fields "required".
The more information you collect, the better experience you can provide — but make sure the data you're collecting is relevant to your goals and desired outcomes and doesn't ask too much of your users. Remember that the customer experience should always remain the first priority, respecting your users privacy and time.
Getting started with your home builder personalization strategy
You will see the greatest return when you have clear objectives. Define your goals first and understand what factors influence your customers' decisions. In other words, only plan to collect information you're actually going to use. If you're not going to use their zip code to provide a better experience, then don't ask for it. This type of planning will help you determine what data is most important, and how you should go about collecting it.
After you've defined clear and measurable goals, the next step is to evaluate the data you already have. Then you can assess the state of your personalization efforts so you know where you stand, and what you need to build upon to meet your goals. If you have very little information about your users, consider third-party sources for augmenting customer profiles with additional information.
Personalization should extend well beyond the home builder web site
Building a profile and providing a personalized experience isn't limited to just your website. You must consider all channels, both digital and physical — including mobile applications, email marketing, online sales follow-up, and physical signage or sales center. How much better do you think your buyer will feel when she shows up to the design studio and sees "Welcome Karen" written on the chalkboard? Personalization can be a powerful tool.
Start small, and consider your resources
Correctly planning and executing a personalization strategy requires an investment of time and resources. Be realistic about what you can accomplish with your available bandwidth and consider outside partners that can offer the tools, technology, and expertise to help meet your needs.
For more info on how Bokka can help you with your personalization strategy, just email us, or schedule a call to chat.