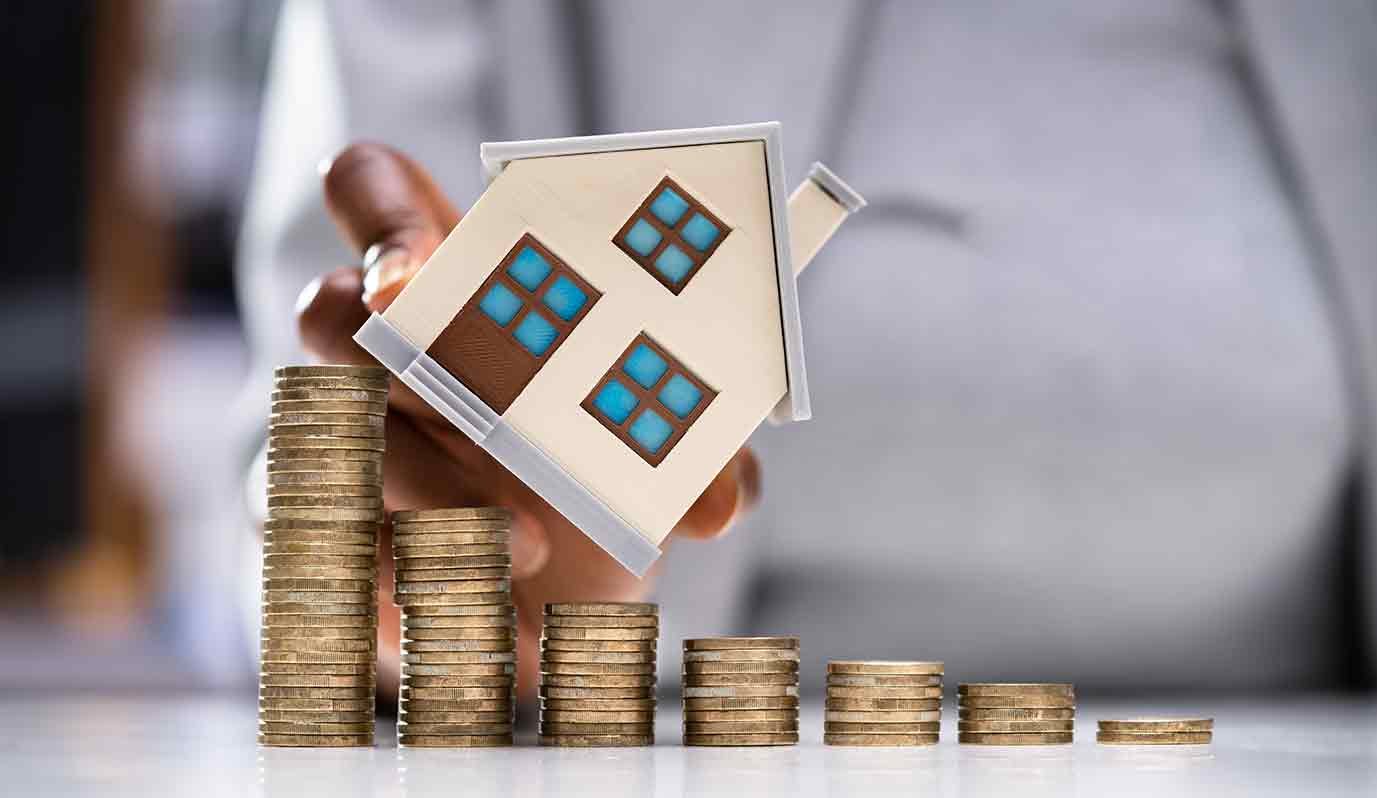 Picture this: You've spent countless hours developing a solid marketing campaign for your latest release of homes. You've studied the market trends, allocated resources, and launched your message on all the platforms.
But the results? Meh. The leads are trickling in at a snail's pace, and the conversion rates are nowhere near your targets. It's bewildering and frustrating. What could be the missing piece? Perhaps, the issue lies in a disconnect between your marketing efforts and the actual needs and desires of your target buyers. It happens all the time.
This is where persona-based marketing comes into play, acting as a bridge to fill the gap.
Imagine having special glasses that allow you to see your marketing strategy from the perspective of your potential buyers. This approach helps to crystalize your understanding of the audience, allows you to engage them more effectively, and significantly boosts your chances of converting them to leads. By adopting personas, your marketing becomes personalized and resonates more powerfully with your audience, leading to increased sales.
Buying a new home is a complex process. Buyers have different wants and needs, and understanding their individual needs helps home builders create homes that fit their tastes and budgets. This is where personas come in. Personas are fictional characters that represent unique target markets or individuals. These characters are based on actual research into the characteristics, wants, and needs of specific home buyers.
There are several reasons why you should create personas for your home-building marketing strategy: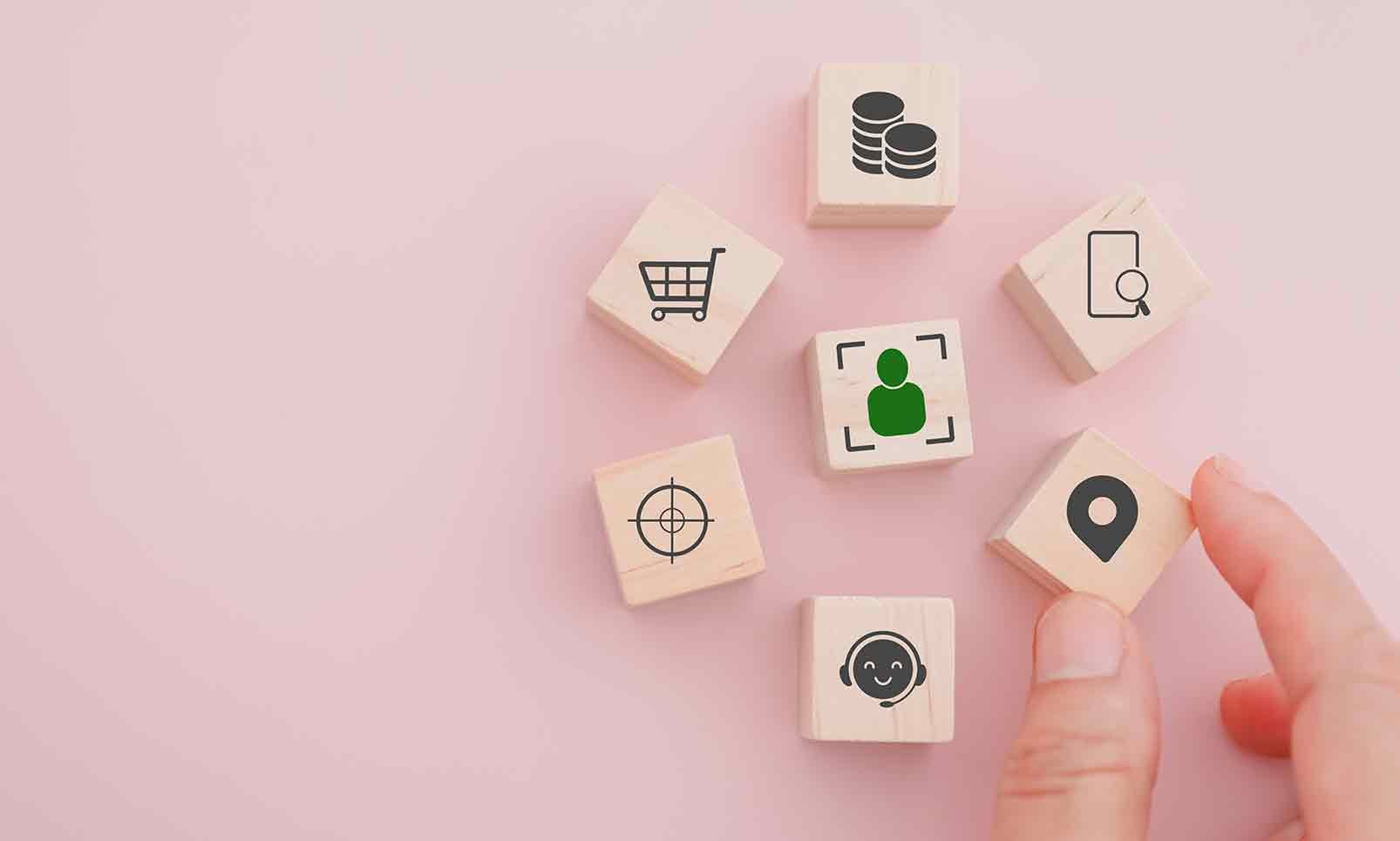 It helps you understand your target audience.
By creating personas, you get a better understanding of who your ideal buyer is. You can gather demographic and psychographic data to help better understand their preferences, pain points and how they perceive home buying. In turn, this makes it easier to create a targeted marketing campaign.
It personalizes your home offerings.
When you understand your target audience, you have a better idea of what types of homes they may be interested in. You can create homes that cater to their specific needs and preferences, including the addition of certain amenities, unique floor plans, and even interior design ideas.
It results in better communication.
When you use personas to target your marketing, you can craft messages that resonate with them. Using the right language can make all the difference and help you better communicate the value of your homes.
It gets you better ROI.
Knowing the preferences of your target audience means that you're more likely to create homes that they will be interested in buying. Ultimately, this leads to higher sales and better return on investment for your marketing campaigns.
Creating a persona can seem overwhelming; here is a simple approach to make the process easier.
Conduct research: Gather customer research through surveys, interviews and online monitoring to understand what affects the decision-making process in the housing industry.
Compile data: Take the data you've collected and evaluate it. Segment each response into categories and find similarities in the responses.
Make a list of Attributes and Traits: From there, create a list of attributes and traits that characterize your typical buyer or renter, such as age, marital status, education level or job title. It's often helpful to align them with a product type or specific community (i.e. Starter Home Collection).
Create a Persona: Compile this information into a fictional character that represents your typical buyer. Give this persona a name, age, picture, and backstory. Add detail to the backstory to make the persona easier to remember and humanize its characteristics.
Personalize: Once you have created this persona, you can use it to personalize your marketing efforts. Tailor your marketing efforts, including messaging, campaigns and the channels you use to connect with your persona.
Creating personas doesn't have to be complicated or time-consuming.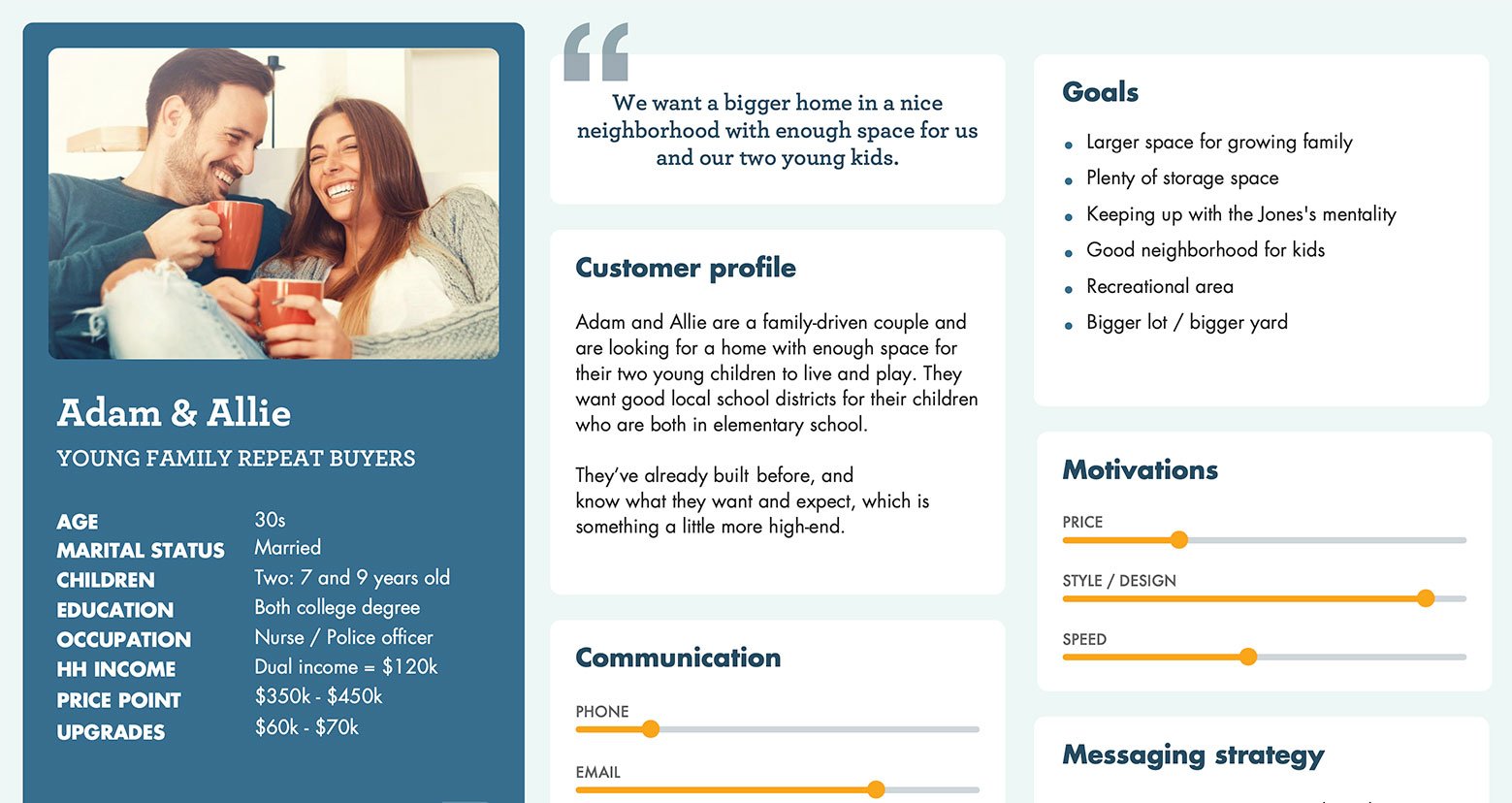 We provide a simple approach that can help you understand your target audience better and craft marketing messages that resonate with them. Once you have a clear picture of your target audience, you can deliver customized and impactful marketing campaigns that improve your ROI and generate leads.
Ask us about our Persona Workshop - a collaborative way to nail your personas quickly and painlessly. Schedule a chat with us below.
Bokka Group provides an exclusive tool that uses predictive analytics to help home builders understand their target audience better.
It is based on millions of data points collected from various sources, such as census data, social media, and credit bureaus. This report provides home builders with valuable insights into their audience, such as their preferred home styles, income levels, interests, and even what type of cars they drive. The report can be customized to include data points that are relevant to your business, making it a powerful tool for creating personas and targeting marketing efforts.
Using this data, home builders can craft marketing messages and create homes that align with the preferences of their target audience. This approach can increase the chances of converting leads into sales and ultimately improve the ROI of marketing campaigns.
When you have an in-depth understanding of your customers, it becomes so much easier to create a targeted marketing approach that will generate leads and ultimately result in sales.
Start creating personas today and take your home-building marketing campaign to the next level!
Not sure where to start?
Let's chat about it. We know how frustrating it can be trying to do everything yourself. Let us be your trusted guide.