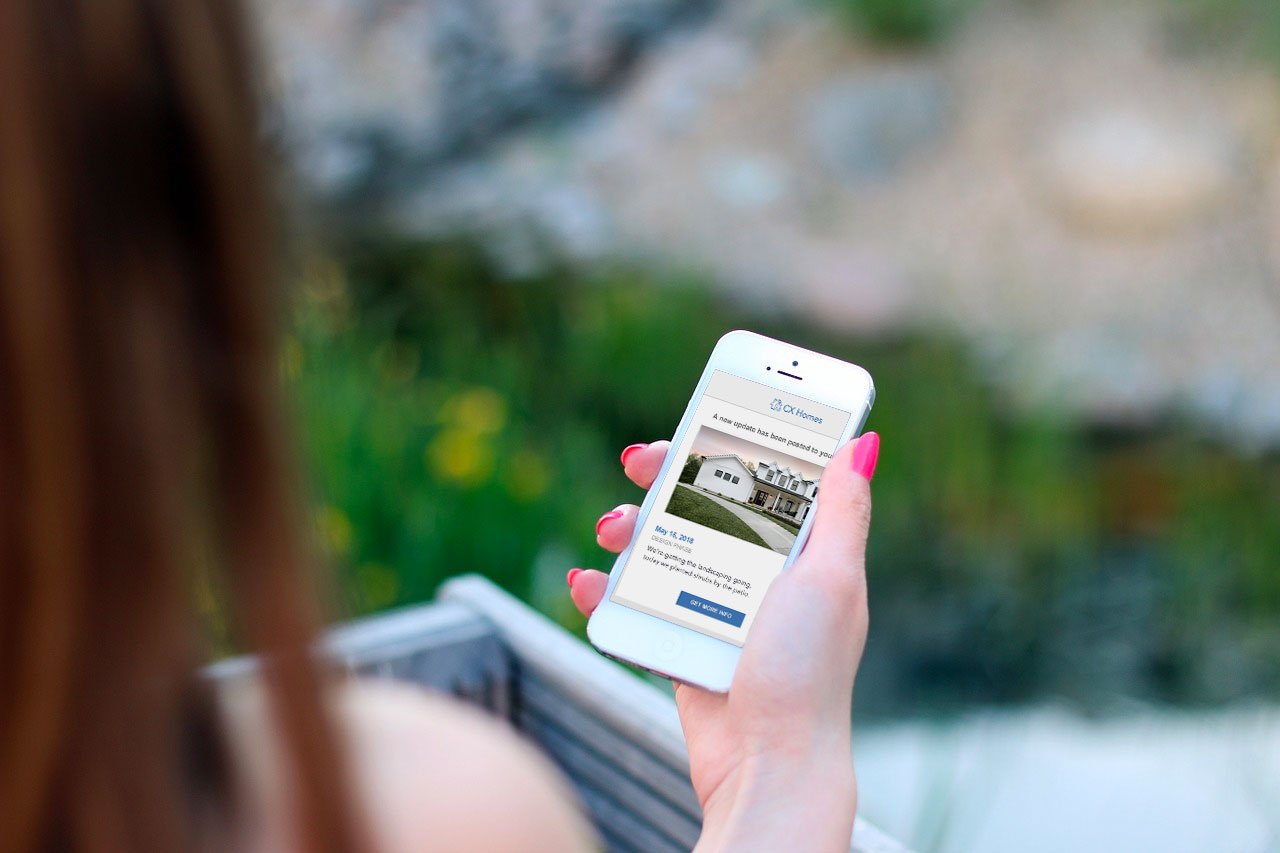 As market conditions gravitate towards a more normalized state, it's time to bring the focus back to what matters most – our customers. After all, without them, there are no homes to build and no trades to employ. And we're going to need those referrals more than ever.
As a result, there's a lot of talk lately about prioritizing the customer experience. The past few years have been great for builders, but have worn thin on home buyers' confidence, with many feeling undervalued amidst waiting lists and high prices. So where do you start making improvements? Which part of the customer experience makes the biggest difference?
I'm here to tell you that improving your customer experience starts and ends with clear, structured and proactive communication. In other words: construction updates.
Here's Why Construction Updates Are So Important:
The highlight of every new home buyer's experience is watching their dream come to life. Seeing things progress from a hole to a foundation, to a house, to their house – is the part they'll never forget.
Unless we never show it to them. In which case they'll drop in every day to sneak a look, whether we allow it or not. We have to be proactive in construction updates or risk losing their trust. And once that train goes off the track it's nearly impossible to get it back on.
The first step in streamlining this communication involves identifying the right point of contact within your organization. Is it your sales team? Your construction team? The key is ensuring we equip our teams with the right information. To get the right answer, we will delve into these questions and help navigate the discussions you're having.
Consider Your Buyer's Point of View
When customers are left to their own devices to interpret what they witness during their home construction, we inevitably face difficult conversations. There are builder-specific practices that can leave our buyers baffled. For instance, buyers often don't understand why their beautiful (and costly) cabinets are installed before the walls are painted. From a builder's perspective, this makes perfect sense, but we should start viewing our practices from a buyer's viewpoint. Absence of clear communication breeds worst-case scenario imaginings in the buyer's mind, potentially eroding any trust and confidence they might have in their builder, leading to undue stress.
For instance, have you heard customers say, "Well, it's a good thing I'm watching to catch these mistakes?" Often, what they observe is a standard part of the building process. A clear example is when a customer sees a broken window during siding. The repair does not happen as quickly as they expect, leading to heated discussions with the building team. Clear, concise communication and expectation setting could have prevented this negative experience.
The Data Behind What Buyers Want
The purchase of a brand new home is a thrilling, yet intimidating process for buyers. Selecting the right floor plan, the perfect homesite, and personalizing their home is both exhilarating and nerve-racking. The building process, filled with uncertainty and anxiety, often serves as the primary source of frustration for your buyers.
Our research, coupled with Zillow's data, has revealed the most significant pain point for home buyers building a new home. It's not an uncertain schedule, delays in construction, the occasional reselection of finishes, the timing of selling an existing home, or fluctuating interest rates. These factors, while part of the process, can be managed through proper expectation setting.
The primary pain point for home buyers is inadequate or even misleading communication from their builders during construction. They crave trustworthy, reliable communication.
Proactive Communication Solution: Builder Signal
In a previous article, we shared details about these pain points. The good news is the building industry has a viable solution in Builder Signal. This communication app delivers real-time updates, providing a photographic journey that chronicles the build. Builder representatives can share their expertise alongside images of the construction process.
Moreover, for the first time in home building, managers can monitor, in real-time, how their team delivers updates via an Administrative Dashboard. Providing an excellent buying experience is not enough; it's the journey through the building stages that leaves a lasting impression. How effective are you at delivering a superior building experience? Ask yourself these questions:
Have you examined your process through the buyer's lens recently?
Have you involved your customer in your process?
Have you taken the opportunity to share your expertise to help your customer learn along the way?
The Customer Experience is the story your customers tell their friends. Have you provided them with a great story to tell?
R&D Shows Technology Can Improve Communication And Build Trust
Having analyzed the buyer experience for many years, the Bokka Group has found an effective answer to the communication dilemma during the construction phase. The fundamental premise we began with was straightforward: buyers are eager for more updates on their home's construction progress and a clearer understanding of the process. We also discovered that construction and sales teams are incredibly busy once they're on site. Construction site managers are engrossed in building homes and ensuring timely delivery. Sales teams focus predominantly on selling more homes, trusting the backlog to take care of itself. However, from the buyer's viewpoint, they simply crave regular, reliable updates from their builder. They also wish for a better understanding of the building process. Let's share our expertise more and deliver an enhanced experience.
In response, Bokka developed a smartphone app for construction updates named Builder Signal to alleviate this issue for busy builders. The app has an impressive record of satisfying over 25,000 buyers through easy-to-follow construction updates. Builder Signal also encourages the behaviors you desire from your team: walking the homes more often and becoming their resident experts.
Builder Signal - from a Sales Professional's Perspective
I had a chance to chat recently with a new home sales professional named Donna. Donna is known industry-wide as a top-performing professional in her field. As we were discussing backlog management, I asked her, "With the volume you handle in your backlog, how do you keep your buyers updated?"
Donna responded, "I get started early on Friday morning. I show up at my community at about 8:30 to walk all my homes. Each time I take notes on each home's activity, I snap a few pictures to share with my home buyers. I get back to my office around 9:45, in time to get my model ready for visitors. Once I am ready for 'showtime,' I begin my task of emailing all my home buyers the status of their homes. I share specific information regarding the activity of the home as I observed it, and I'll attach a photo or two and send it off."
Does this sound familiar? It's a common tale, often highlighting the process's pitfalls.
I asked her, with 42 homes in backlog, how long does it take you to complete your email campaign?
Donna said, "Paul, that's the rub, in between all the activities I experience at my community, I am lucky to finish my updates by Sunday afternoon. By then, I might have seen half of my buyers visiting their homes. Which means my updates are rendered useless."
I then asked Donna, "What if I could provide you with a tool that by the time you walk your homes Friday morning and get back to your office to start your day, all your updates would have been sent out?"
Donna look at me with amazement and said, "shoot, I could have more time for my Realtor outreach, my follow-up with prospects and set more appointments, and just do the things I do best.
I then shared the Builder Signal platform with her, and today, her company is using the platform to communicate with their backlog.
As Donna had experienced, the Builder Signal platform has many benefits for both the builder (more efficient) and the home buyer in terms of an elevated building experience.
One home buyer shared with us, "We had more appreciation for our builder and what they go through to build a home because of what we learned through Builder Signal. We learned some things along the way, our anxiety was greatly reduced because of the transparency the program provided, and we have more trust that they were going to do the right thing."
The Impact of Communication on Builders' Survey Scores
We recently reviewed a survey from a major builder and were able to discern a correlation between good and bad communication and its impact on customer referrals or the Net Promoter Score (NPS).
This builder, like many others, had struggled with providing consistent, meaningful communication during the construction phase. They began employing Builder Signal as their primary tool for communicating building activity status towards the end of Q2 2022.
As illustrated in the graph below, there is a clear relationship between providing proactive weekly updates on the building progress and their NPS scores. The national average for NPS scores is 31.1, regarded as a good score. Remember, the NPS score ranges from -100 to 100, offering a 200-point swing. This builder's NPS score reached 54.1, surpassing the national average by 23 points. This dramatic turnaround is largely attributable to their systematic, proactive communication approach facilitated by Builder Signal.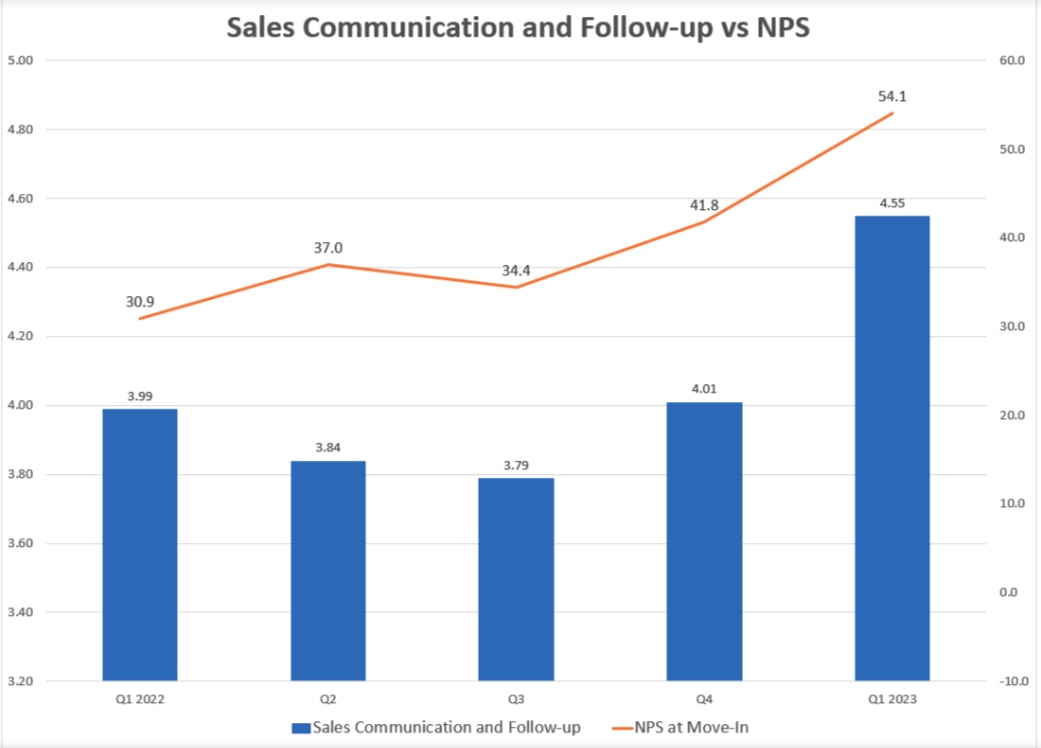 What Builders are Saying About Builder Signal
The feedback from builders using the app has been overwhelmingly positive. They report increased team efficiency and constant delight from their home buyers. Many builders even attribute improved survey scores, leading to stronger testimonials and referrals, to Builder Signal. It genuinely transforms one of your homebuyer's major pain points into a more enjoyable building experience. Let's hear from a few of the builders using the platform:
Brian Busbee - VP of Sales and Marketing, Eagle Construction:
"We were thrilled with the immediate impact of implementing Builder Signal across all our communities in three geographical markets. Our goal to enhance the customer experience and provide greater transparency within the building phase was realized within a few weeks, as the positive feedback from buyers came rolling in."
Jason Harper - VP of Sales and Marketing, Hunter Quinn Homes:
"We had a system in place before we used builder signal. We called it "Power Hour"......Power Hour quickly became an all-day activity, and nothing else seemed to get done!"
"(Using Builder Signal), we were able to send pictures of the progress of their home, we could explain to them what was going on during each phase of construction, and we could tell them a little about what happened during the week and what we expected to happen next, all with one single update. But the best part was that we were able to contact every single buyer and relay all of that information in less than an hour."
Brett Moses - VP of Sales and Marketing - Alvarez Construction:
"Since our implementation of Builder Signal, we have seen an immediate rise in our customer satisfaction surveys in regards to our "communication" rating (Eliant). The ease of the app and the final product that is delivered to the customer is bar none. My sales staff has vastly reduced the time it takes them to do a quality update and the customers enjoy sharing their weblinks with friends and family. The transition to Builder Signal was a "slam dunk" decision and one that we are happy to use with prospective buyers as an effective sales tool."
What Home Buyers Love
With Builder Signal, home buyers have a personalized website with all the updates and photos in one place. No more digging through emails looking for that one update or photo that was sent months ago. They also are provided with a description of what happens during each stage of construction. Proactive communication is all your customers are asking for.
Give Builder Signal a try, it will bring efficiency to your communication, it will delight your homebuyers, and will have a positive impact on your survey scores.
Send us a Message for a Free Trial
Email: paul@bokkagroup.com or schedule a time to chat below - we'd love to hear your story.

>> Schedule a time with Paul with this link