With "office-optional" - culture is more important than ever.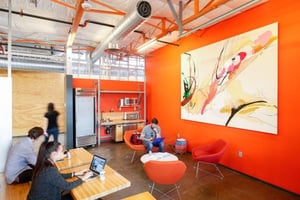 Here at the Bokka Group, we believe great customer experiences come from a culture where people are connected with those who share their passion and purpose. In this fast-changing world of technology and remotely distributed work environments, we believe it's more important than ever to focus on maintaining a great culture. Here in Denver, Bokka has what's called an office-optional policy, which means everyone is fully equipped to work from home (or anywhere with wi-fi). We still have an office — it's just...well, optional. So, how do you maintain a culture of collaboration and innovation when not everyone is always physically present?
Celebrating our people and culture has always been an important element in keeping morale up and spirits high. Over the years, we've discovered a variety of ways that seem to do the trick for our office-optional company, and they've helped us become quite the experts in celebrating. Here are just some of the ways we celebrate the small stuff and the big stuff — from the day-to-day wins to massive website launches and everything in-between.
How do we effectively communicate while remote?
By working remotely, our team relies on Slack and email to stay in communication throughout the day. Slack is a great way for the team to either chat one-on-one or in groups, and it's easy to keep up to speed on team morale when most of us are working somewhere besides the office. Another bonus of Slack comes in the form of tacos. That's right, tacos. Unfortunately, these aren't tacos of the flour tortilla-carnitas-black beans-avocado variety. We use the HeyTaco! App on Slack as a way to give out kudos/virtual high-fives using the taco emoji. When you give someone a taco, the whole team is able to see the interaction, and it provides an awesome level of transparency for these daily wins. As a team, we are constantly giving out tacos for a myriad of reasons: to say thanks, to give praise, to congratulate, or just because someone put a smile on your face. To top it all off — whoever gets the most tacos for the month earns a bonus towards their personal development fund.
A culture of celebrating wins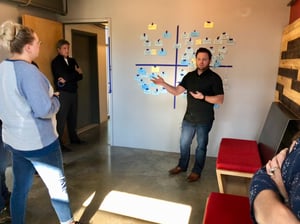 We believe it's important to fail forward, but also to celebrate wins. One way we celebrate wins is by holding Retrospectives at the end of every two-week work sprint. This is a where everyone has an opportunity to provide constructive feedback or ideas for improvement, and it also allows the team the chance to give cheers to co-worker(s) in front of the rest of the team. It's a great way to call attention to the good work someone has done during the last 2 weeks. Giving and receiving cheers for a job well done is an incredible way to cultivate a culture of positivity at the office.
Here are a few other digital tools we use to stay connected while working remotely: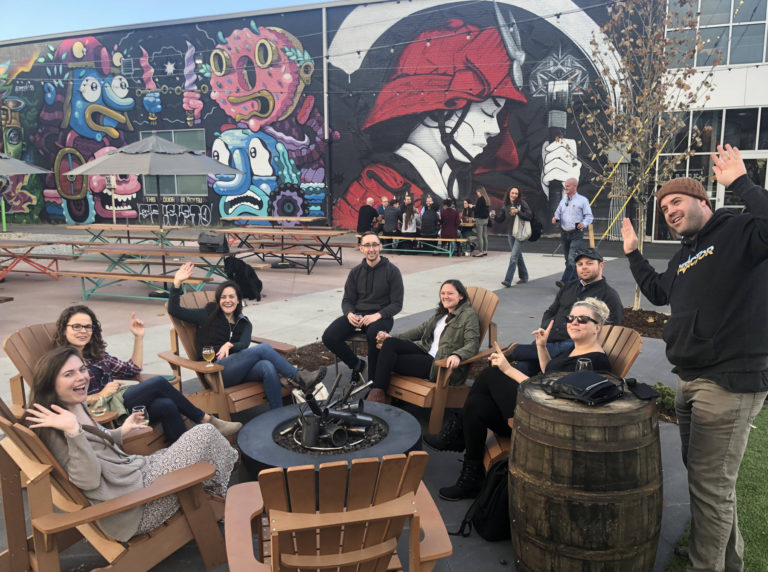 Make time for face-time
Our team also makes an effort to spend quality time together outside of the office. This could simply mean holding a meeting at a local coffee shop or brewery instead of in the conference room. Or it could mean having happy hour at a local winery to celebrate the launch of a new website — complete with competitive rounds of cornhole and lots and lots of pizza.
We also have annual events that we look forward to every year. The Denver Art Bus event, where we hop on a bus in the evening and tour art galleries scattered across Denver, enjoying beverages and cookies and pizza, is a favorite of mine. We also always have a Christmas Brunch where we play a friendly game of White Elephant where joke gifts are encouraged, and so is stealing gifts! Come springtime, we celebrate our beloved Colorado Rockies home opener with a decadent brunch filled with too much food and delicious mimosas. These events over the years have helped cultivate our friendships and our camaraderie, and celebrate the biggest win of all — that we all get to work at a company that values friendship and fun.
With an office-optional environment, it might seem like it's hard to celebrate wins with the whole team, all at once, all the time. But with a little flexibility, planning, and of course, tacos — it's a lot easier than you might think. And most importantly — it's just plain fun. It keeps the attitude positive and helps instill in all of us that the hard work we do is recognized, appreciated, and yes, celebrated.
Now, who's ready for happy hour?