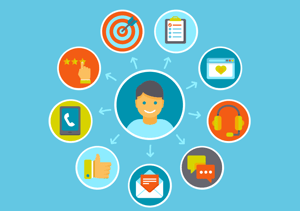 When someone asks me "what do you love most about working at the Bokka Group?" my answer is always, "our passion and commitment to customer experience." As a member of the Client Service team, it has been such a rewarding experience working for a company that puts the customer experience of our clients and their customers first. From the strategies we recommend to our clients, to how we approach our own work for our clients, we always strive to deliver the best possible experience.
I also believe our passion for the customer experience makes us the perfect fit for the home building industry. The industry is unique in that it isn't just one transactional activity. Rather, it is a journey, one with many necessary steps to get from first visit to move-in day. For builders, this means there is an abundance of opportunities to create wonderful memories delivering each and every new home.
That's why it's our mission at the Bokka Group to help builders improve the home buying experience for their customers. We want every stage to be a memorable one for all the right reasons. After all, life is about the journey and the destination - so let's make them both great.
In order to put the customer experience first, you have to become "customer-obsessed."
Within the home building industry, customer happiness can be an overwhelming notion simply because of how long the customer's journey is. A buyer has to make a lot of decisions and work with separate teams at different stages, over months and even years. And the product itself - a brand new home! - is enough to overwhelm even the most customer-focused companies.
Start by mapping your customer journey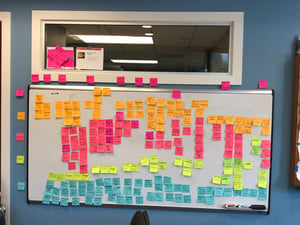 We firmly believe in the creation of a Customer Journey Map, a visual representation that tells the story of the customer's experience. This process will encourage everyone in the organization to see what it's like to buy and build a home with you by going through each phase of the homebuilding process and identifying those make it or break it moments for customers.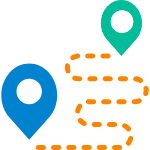 A successful Journey Map relies on collaboration and team involvement and ultimately it will help everyone in the organization to put themselves in the shoes of the customer and feel empathy and connectedness with the customer. We recently held Journey Map sessions for Wonderland Homes and in the words of one of the participants, "The journey mapping process resulted in a lot of 'a-ha moments' to take to our team for improving the customer experience."
Look for the "a-ha moments" or "moments of truth" for your customers.
One "a-ha moment" for Wonderland was this realization: when a buyer first pulls into the driveway of their new home at orientation there are often other cars there, forcing the homeowner to park in the street.
This didn't seem like a big deal to the construction team - the contractors and subs had been parking there for months while working on the home. But when they put themselves in the shoes of the customer, they realized that even the simple act pulling into the driveway of a completed new home for the first time can be a very special moment. They saw this as a clear opportunity to create a more welcoming setting for this important occasion.
To be customer-obsessed means always putting yourself in the shoes of your buyers and thinking "what can I do to make this a memorable experience?"
Even though we are clearly obsessed with customer happiness, we also know that
results and concrete data

make the homebuilding industry world go round.

The days of sacrificing the customer experience in order to improve your bottom line are gone. When you make the decision to improve the experience from the top of the funnel to closing day and beyond, you'll also increase sales by differentiating yourself from the competition.
A Model Grand Opening that was a
grand success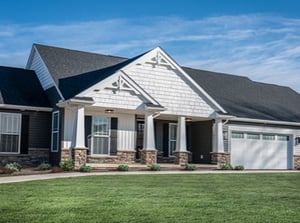 We recently worked with midwestern home builder Wayne Homes on their Akron-Medina Richmond II Model Grand Opening weekend event - and it was a huge success. In the months leading up to the event, our team was tasked with increasing traffic and awareness of the event by delivering engaging, relevant content to the right prospects at the right time. That meant highly-targeted, geo-specific media and marketing tactics. We focused our efforts on prospects who were in the Akron-Medina market and who matched a specific set of demographics. In the days leading up to the event, we knew these tactics were working when we recorded over 1,000 visits on the Grand Opening landing page. Not bad for an on-your-lot builder in a rural area.
The result? The Model Grand Opening was a packed affair, with 200 excited prospects pouring into the model on Saturday and Sunday.
Additional members of the Wayne team were asked to come to handle the flow of traffic - a first for one of their Grand Opening events! The majority of prospects came from the online campaign - and took the next step to come see the model home in person.
When we talked to Katie Logsdon, a member of the Wayne Homes marketing team, about the event's success, she told us that it "...wouldn't have been possible to pull off this event without your hard work, designs, and media placement expertise!"
How do we achieve this top-notch customer experience and strong data-driven results?
The short answer is that we work as a key strategic partner for every one our clients. We offer strategic direction to the company as a whole - so that customer experience and results-driven data are a focus throughout the entire company. This is another reason our Journey Maps are such a vital part of our mission. Journey Mapping allows us to work with cross-functional teams (e.g. sales, construction, warranty) to put everyone in the shoes of the customer.
Not only that, but the Journey Map exercise is a great team-building exercise for home builders. In the end, the Journey Mapping process helps cultivate trust and alignment by demonstrating the importance of putting the customer first.
We recently led Boulder Creek Neighborhoods through a Design Process Journey Map where both the marketing teams and the Design team joined for a day-long session. It was an informative, eye-opening session and the Design team left with a renewed sense of how important customer experience is.
Trena Landin, a Home Design Specialist at Boulder Creek Neighborhoods, said that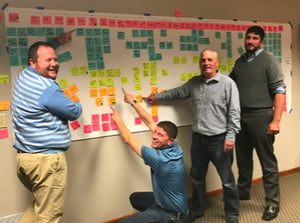 the Journey Map was an "amazing success" and that "...seeing things from our buyers perspective was amazing. I can't wait to implement these great new ideas with our team."
Ultimately, our mission is simple: We want to help homebuilders create unforgettable home buying experiences.
It's one thing to believe in the importance of the customer experience - and another to implement real strategies that help improve the customer experience and get results. That's why we work diligently and consciously to deliver a high level of work that is rooted in trust, results, and customer happiness. I love knowing that by working for the Bokka Group, I am directly helping our clients and their customers experience happiness and success.
Interested in learning how we can do the same for you? Just get in touch, we'd love to hear from you!