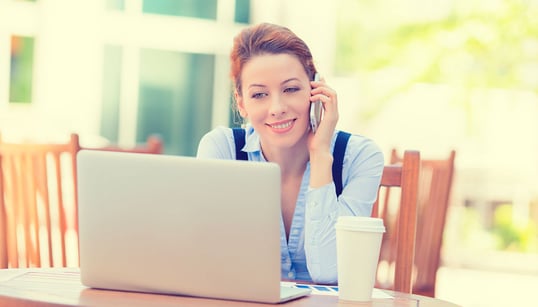 Starting in March 2020, the world, America, and the entire workforce entered into unprecedented times. We've all felt the effects: wearing masks to buy groceries, cancelling or postponing events, and working from home have all become the new normal for many working Americans. It's been a time of struggle, of necessary growth, and has required a lot of patience.
As one of these working Americans who now calls my kitchen table my desk and my house my office, I've had time to reflect on what can make the situation better - for myself, the home builders that I work with, and our company, the Bokka Group. It's become clear to me that flexibility is absolutely key to navigating the new and sometimes murky waters of working remotely. And to go one step further, when you combine this flexible mindset with an Agile methodology, you have the blueprint for personal and professional success we're all looking for. In order to survive in this new and changing world, we have to be able to adapt and change.
Working remotely is all about the routine
At Bokka, it was decided a few years ago that everyone would be able to work full-time from home. And this policy has carried throughout the entire time of COVID-19. Admittedly, we had a great advantage here, as we were already an office-optional company. However, in the past we would all try to be in the office two to three times a week for regular meet-ups for lunches and happy hours. So the switch to full-time remote was a bit of an adjustment.
I learned pretty quickly that having a routine was going to be crucial for me. Of course, wearing your pajamas until 2pm and eating lunch at 10am sounds amazing in theory. But in reality it doesn't exactly lend itself to being productive. And this probably doesn't need to be said - but just because you don't have to brush your teeth doesn't mean it's not an important part of your routine. Not even your dog wants to smell your morning breath.
In times of change, focus on what you can control.
Waking up, brushing your teeth, putting on your nicest athleisure outfit, and sitting down at a desk - yes, a desk, not your bed - are all things you can control that will help create a sense of stability in your day. But don't stop there. Did you used to go to three or four yoga classes a week? Take early morning runs? Bike to work? Whatever it is that you used to, just adapt and change it so that it works for our current reality. Instead of going to my yoga classes at the studio, I've been taking virtual classes with my favorite teachers using Zoom. It's not exactly the same, but it's the routine that helps me keep my mental health in check and provide the break from working that I need.
As I mentioned before, Bokka has been doing the WFH dance for awhile, so we had a pretty solid set of tools to rely on as we became entirely office-optional. Here's a list of the online tools that have been absolutely key to me for maintaining a sense of normalcy and helped me contribute to work getting done successfully:
While fancy digital tools are incredibly useful, they aren't the only things that impact how well a business can operate remotely. It's also super important to look for ways to maintain structure and routine on a company-level. Although successful employees are able to self-delegate and work to meet their goals without too much hand-holding, working from home is just different. It can feel isolated and lonely.
It's good to hold regular check-ins as a company.
Here at Bokka, we have a check-in call every other day during the week. This maintains a sense of structure and provides a consistent time for everyone on the team to connect. Plus, it's just nice to hear how everyone is doing, to cheer each other on (or commiserate), and to simply catch up and chat. A virtual happy hour is a nice touch, too.
Maintaining your mental health is critical to working remotely.
The other super, super important piece for employers to remember is that every single person on their team has been impacted - inside and outside of their job. It is more important than ever that companies prioritize the mental health of their employees. Feeling burnt out is inevitable, and with so many employees currently juggling working full-time and watching their children full-time, it is also completely understandable.
If you're an employee, it is important to listen to your gut and communicate with your manager if you're feeling overwhelmed. And if you're a leader at your company, make sure you're creating a safe space for employees, so that they can reach out if they are feeling underwater. We all need to have each others' backs right now.
This is not the type of disruption the industry was expecting.
Who could have predicted that 2020 would be the year a world-wide pandemic changed the daily lives of nearly every person in the US and across the world? So it isn't surprising that COVID-19 has been disruptive for the home building industry. A significant number of sales come from customers driving by sales centers, touring open houses, meeting with design consultants, etc.
So how do you adapt to a new virtual world in an industry that has historically relied on being a person-to-person business?
Virtual Tools are the stars of the show.
Use the virtual tools you already have or invest in new ones and then promote them across your social media and ad campaigns. Anything that allows your users to interact with your product without having to see it in person is a winner. From interactive floor plans to virtual walkthroughs, there are plenty of digital tools to choose.
Enhance the online sales experience.
In this day and age where technology is king and smart phones are in every hand, you've likely implemented an online-sales strategy a long time ago. You've been taking emails and calls from leads for years - now is the time to put more emphasis on how you are handling these.
First step is to make it crystal clear across your website and social platforms that you have a talented team ready and able to take calls and emails and get the process started.
Take it a step further by encouraging leads to engage with your Online Sales team by implementing a chat feature on your website. Make sure it is prominently displayed and promoted across your site and easily accessible from a desktop computer, a tablet, or a mobile phone. Then get creative with product tours using the tools your sales team already has. To see how one builder is doing this, check out this video.
Be agile and embrace change.
As I've said throughout this article, in this time of constant change, it is of the upmost importance to be agile - aka, to be adaptable and flexible while producing work. You may not be an Agile company (capital A) like we are at Bokka, but you can still be agile (lowercase a) and benefit from the flexibility. (More about that distinction here)
In times of flux and change, you have to be willing to start small and iterate. It might not be absolutely, 100% perfect, but if it works correctly and performs the job, then it is better to launch and iterate on it with feedback as time and circumstances allow. Right now is not that the time to have "analysis paralysis" - you have to be quick on your feet and make decisions, knowing that you can change something if needed.
Ultimately, being agile will help alleviate pressure, encourage creativity, and keep yourself and the team moving quickly and efficiently, and dare we say it, even happily.
Here at the Bokka Group, we use the Agile Methodology to make sure we deliver the best experience for our clients. We pride ourselves in our flexibility and our ability to produce a high-quality product in a timely manner.
I think that when we look back at 2020, we will all be amazed at how we adapted and persevered during a time of rapid and unprecedented change.
It's inspiring to see the innovations that have come out of this time, and it's important to remember there will be moments when we have to "fail forward" in order to succeed. And although working remotely can be incredibly challenging and lonely, it's helpful to know that we are all going through this together and are working towards a common goal.