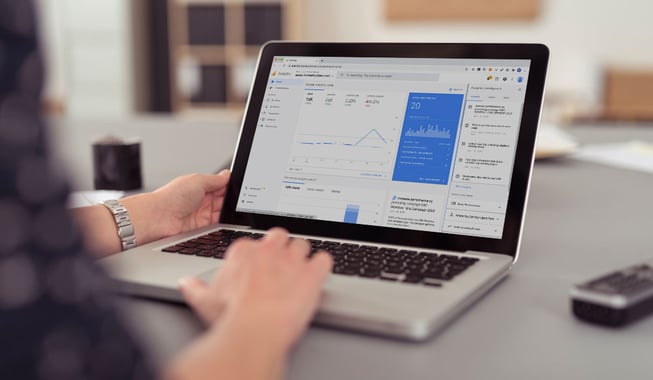 In this crazy time of virtual appointments and social distancing, digital marketing has become increasingly important for home builders. Digital media like search or social is likely how you're being discovered by most of your prospects. And if you want to understand enough about these people to convert them to leads and sales, you can't be afraid to dive into your Google Analytics data.
One question we constantly get from home builder marketers about Google Analytics is, "where do I start?"
If you're a Google Analytics guru, you probably already know most of this, and/or use Google Data Studio to customize your data visualization. For the rest of you wondering where to start, this article is for you.
Google Analytics is intuitive enough for most of us to be able to poke around and learn a few things about our web site traffic and audience. Like how many users visited our site last month, or what the most-viewed pages are. But if you ever want to start building your own custom reports and dashboards, there are a few basic components you need to understand.
Google Analytics can be used to understand the demographics of your target market as well as their interests and behaviors on your website. Learning how people behave on your website can help dictate where to put relevant information and conversion points to guide them through the sales funnel.
Google Analytics provides a ton of different ways to measure the effectiveness of your digital tactics and campaigns. And most reports have one thing in common: they rely on metrics and dimensions that can be compared over time to measure the success of your efforts. However, it's important to understand how to interpret these figures in order to create an efficient and effective campaign.
When used properly Google Analytics allows home builders to measure results of campaigns in real-time, compare present data to previous performance, and more.
It's very common for marketers to use multiple channels and tactics to reach customers. For example, if you are trying to reach a younger audience you may use paid search to reach audiences in an active mindset. You may also partner contextually relevant sites such as Zillow and place banner ads within the site that are targeting a specific demographic. Google Analytics allows you to compare channels and tactics and dive deeper into success factors such as visitor-to-lead conversion tracking, customer engagement, devices, etc. to measure and determine what's working and what's not.
Visitor-to-lead conversion tracking is a crucial component of every builder website.
The most common example of a web conversion is a customer submitting a contact form to get more information about your homes (see average conversion rates here). Or it could be a prospect signing up to get access to virtual home tours or information on a future development. These are great indicators of customer engagement and can show how involved customers are willing to become with your website and services.
Another important aspect of digital marketing you should pay attention to is how customers are experiencing your site. This can include customers on devices such as desktops, tablets, and smartphones. Understanding and combining this data can be extremely effective in aligning business goals with digital marketing strategies.
Introducing Dimensions and Metrics...and why they matter
It's important to understand that in every Google Analytics report there are dimensions and metrics that indicate the performance of the campaign.
Dimensions are attributes of your data that are typically represented by text. For example, the dimension City indicates the city from which a session originates. The dimension Browser indicates the web browser (e.g. Chrome) that was used to view a particular site.
Metrics are quantitative measurements that are numerical values. The metric Sessions is the total number of sessions. The metric Pages/Session is the average number of pages viewed per session. In Google Analytics you can create reports consisting of multiple dimensions and metrics to create a clear picture of website performance. An example can be seen below. Here we can see the number of sessions and pages per session of a website with traffic from multiple cities and different web browsers:
Furthermore, metrics can be measured on a daily basis. This allows us to manage campaigns in a timely manner and make adjustments to improve performance. For example, if a popular development or community is sold out and search ads are still running, there could be wasted budget generating traffic to a product that's no longer available. Google Analytics can be used to determine where to focus media efforts by analyzing top performing ads or media channels.
Helpful widgets for builders to monitor conversion rates
Ultimately, understanding dimensions and metrics allows you to use data to influence business decisions and create efficiencies within the sales funnel. The most important being tracking your lead conversions.
Using widgets and customized dashboards
A widget is a mini-report that displays your data in different ways like a line graph or pie chart. A widget can display simple metrics (e.g. number of Pageviews), or tables/charts that combine metrics and dimensions (e.g. Users grouped by New vs Returning Visitor).
With a basic understanding of widgets, you'll be able to create your own customized dashboards like the ones below. These could be macro dashboards that provide insight into your overall website traffic or micro dashboards to keep track of visitor-to-lead conversion rates for individual campaigns.
Example macro dashboard for a home builder website: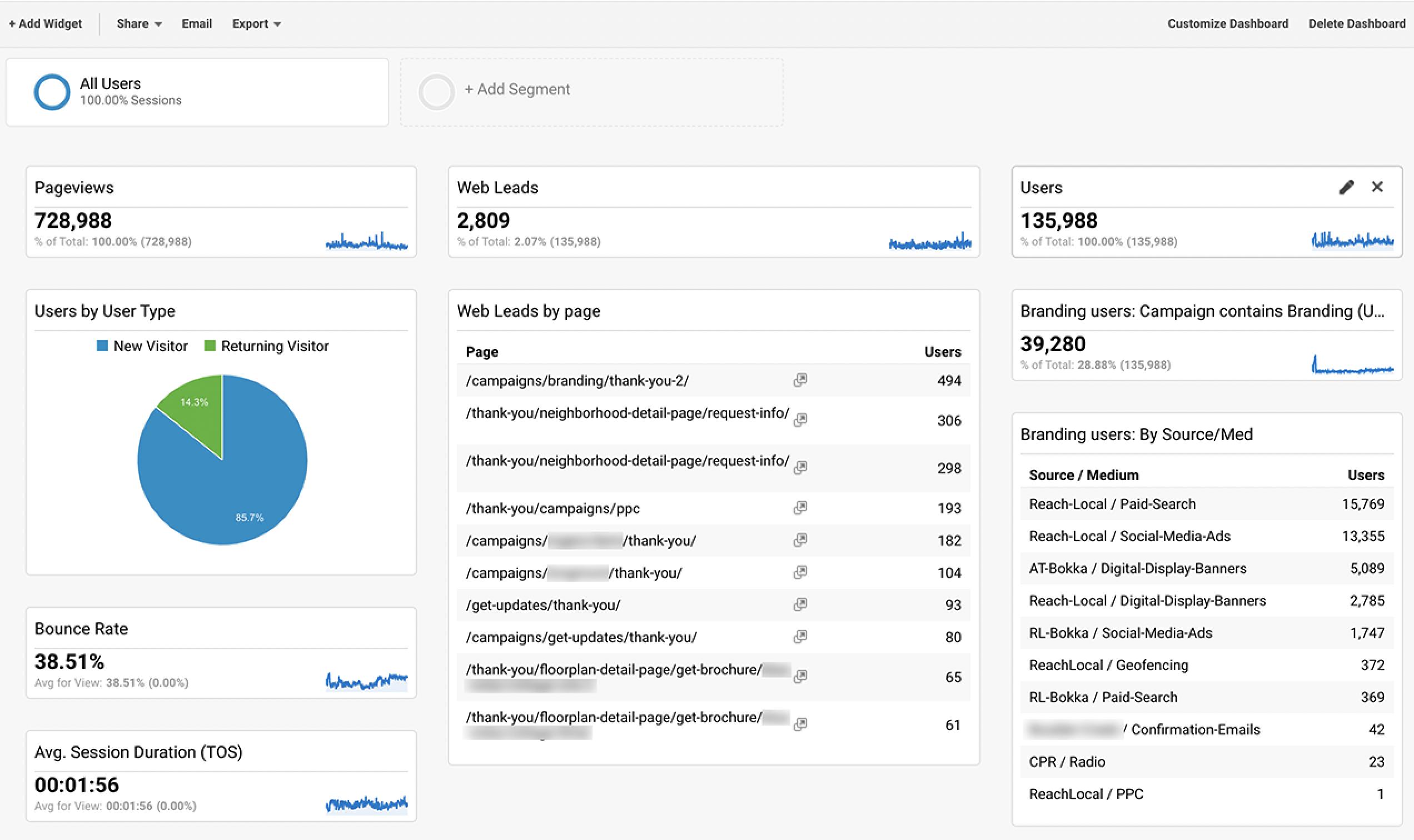 Example micro dashboard for monitoring home builder campaign conversions: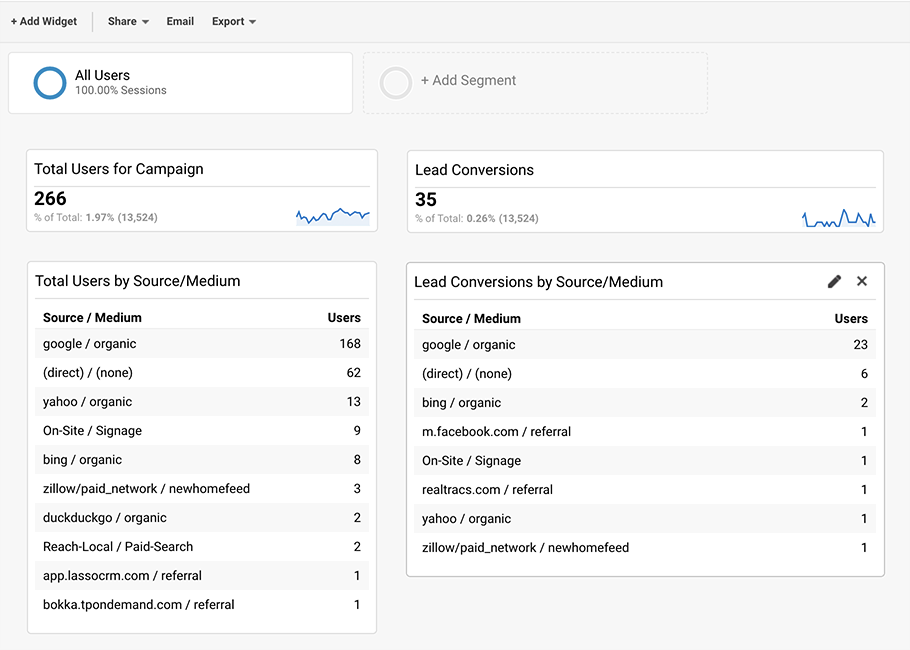 As with most reporting platforms, there are many different ways to extract meaningful data. Google Analytics is no different. But for those of you wondering where to get started, we recommend tracking conversions from the media where you're investing the most heavily. An understanding of the methods above will allow you to better understand your customers' behavior, and have the ammunition you need to optimize your media spend for increased conversions.
If you'd like help analyzing your customer data and optimizing your media spend, just let us know. We'd love to chat.